MHA orders CBI probe into Rs130 crore illegal sale of mortgaged paddy
In a significant development, the Union Home Ministry has directed the Central Bureau of Investigation (CBI) to investigate a case involving the alleged illegal sale of mortgaged paddy worth Rs130.41 crore in Sindhanur Taluk of Raichur district, Karnataka.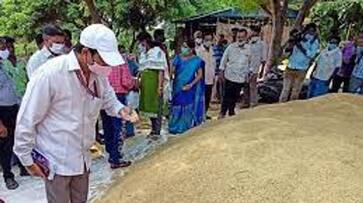 The incident is reported to have occurred approximately three years ago.
The State Crime Investigation Department (CID) has recommended the CBI's in this financial misappropriation case, which has raised serious concerns. 
A senior CID official confirmed that a formal request has been made to the CBI, and further actions will be determined based on the CBI's response. If the CBI declines the investigation, CID intends to continue its own inquiry.
Background on the Case
The case revolves around approximately 494 individuals who had taken loans for paddy stored in warehouses within Sindhanur Taluk. These individuals are alleged to have sold the paddy without notifying Canara Bank, which had provided the loans. Canara Bank Managing Director Satya Prakash Singh filed a complaint leading to the registration of an FIR at the Raichur district CEN station.
Notably, this case was initially under the purview of the Congress government in Karnataka. However, the government decided to transfer the investigation to the CID, and more recently, it has been referred to the CBI by the Union Home Ministry.
Mortgage Loan Irregularities
Canara Bank had provided stock mortgage loans to farmers based on agricultural commodities, a common practice in the agricultural sector. Under this system, agricultural commodities are used as collateral for loans, and the quality, quantity, and security of these commodities are ensured by Prescribed Private Warehouse Units (EPSUs) operating under bank regulations.
In this case, 494 borrowers had collectively borrowed ₹130.41 crore from Canara Bank based on Warehouse Receipts (WR) issued by a total of 81 private warehouses across Kavitala, Balaganur, Maski, and Sindhanur Rural Police Stations in Sindhanur Taluk, Raichur District. Shockingly, these borrowers and the private warehouses, responsible for the mortgaged stock, allegedly collaborated to illegally sell the paddy without repaying the loans.
Financial Implications
The illegal sale of mortgaged paddy has reportedly caused a significant financial loss to Canara Bank, estimated at Rs185.31 crore.
Last Updated Sep 3, 2023, 5:34 PM IST