Lakhimpur Kheri violence: Nationwide 'rail roko' agitation affects train traffic in 30 locations across India
The SKM said during the 'rail roko' protest, all train traffic will be stopped for six hours from 10 am till 4 pm today.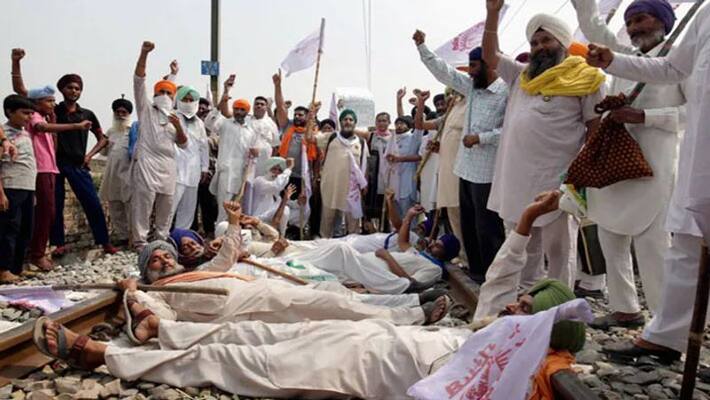 The Samyukta Kisan Morcha (SKM) which called for a six-hour-long nationwide 'Rail roko' agitation over the Lakhimpur Kheri incident, began at 10 am on Monday, and is currently underway.
The umbrella body for multiple farmers unions is demanding the removal of Union Minister of State (MoS) for Home Affairs Ajay Mishra Teni from the Union Cabinet, in which his son Ashish Mishra Teni is an accused.
In Punjab, farmers squatted on rail tracks on Monday morning as part of the Samyukt Kisan Morcha's six-hour 'rail roko' protest.
Meanwhile, prohibitory orders banning the gathering of people (Section 144) were imposed in Lucknow on Monday in view of the 'rail roko' agitation called by farmers. Cops to take action against those who will participate in the 'rail roko andolan' called by farmers organization. 144 CrPC is also imposed in the district and will impose NSA if anyone tries to disrupt normalcy, Lucknow Police said.
As of now, 30 locations are affected and 8 trains regulated in Northern Railway Zone, informed CPRO, Northern Railway on 'rail roko' agitation.
Also read: Durga Puja attacks were pre-planned, says Bangladesh Home Minister 
A statement issued by the umbrella body of farmers' unions on Sunday read, "To press for its demand for Ajay Mishra's dismissal and arrest, so that justice can be secured in Lakhimpur Kheri violence, SKM has announced a nation-wide rail roko program on October 18."
"SKM put out a call to its constituents to stop rail traffic for six hours on October 18, between 10 am and 4 pm. SKM asked for this action to be taken up peacefully, without any destruction and damage of any kind to any railway property," it further read.
The SKM has alleged that Ashish Mishra was driving in the vehicle which mowed down farmers, resulting in the death of as many as eight people, including four farmers, on October 3.
The deceased in the incident also include three BJP workers and a local journalist.
However, Ajay Mishra has denied any wrongdoing and claims that his son was not present at the site of the incident when it occurred.
Last Updated Oct 18, 2021, 12:36 PM IST