Karnataka Cabinet expansion: CM Bommai to meet JP Nadda today with probables list
Karnataka CM Basavaraj Bommai may soon expand his Cabinet if central leaders give a green signal. The CM has left for Delhi today and will meet national president JP Nadda to seek his approval. It is said that the CM will have a small Cabinet to begin with and later may add more ministers in a phased manner.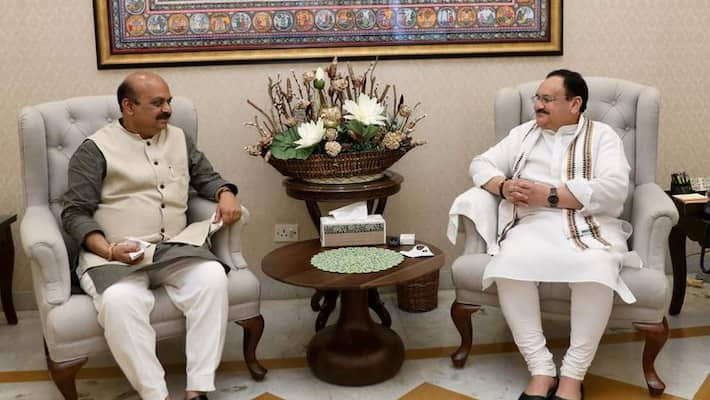 A clear picture on Karnataka Cabinet expansion is expected today evening as CM Basavaraj Bommai would meet BJP National President JP Nadda this evening.
The CM left for Delhi at 9:30 am and would reach the national capital by 12:30 pm. It is reported that CM has a small list that would be placed before the high command to seek its approval. In case if the high command gives a go ahead, some ministerial aspirants may take oath at Raj Bhavan by Wednesday.
Anticipating dissidence and protest from some sections, some of the posts will be kept vacant to fill later.
Many of BSY loyalists may find a place:
As intense lobbying from ex-Ministers and MLAs loyal to BS Yediyurappa is on, many of them are making frequent visits to Lingayat strongman's house, and it is said these leaders may find a place in Bommai's Cabinet too.
It is reported that some 5 to 6 senior leaders who held Minister's post in Yediyurappa's Cabinet may be kept out from berths this time and new ones may find a place. To keep the RSS faction happy, leaders associated with RSS like Sunil Kumar from Karkala and Dattatreya Revoor from Gulbarga South may get Cabinet berths.
Earlier, Jagadish Shetter, who sent out a clear message that he will not be included, openly said that he does not want to be part of the Cabinet. This decision by the former CM is to avoid further embarrassment.
BSY opposes post to rebels?
To send a strong message to Yediyurappa's adversaries who rebelled against his leadership and complained to the central high command seeking his replacement, it is said that Yediyurappa has advised both CM and also high command not to give Cabinet berths to such leaders.
Balachandra Jarkiholi to get Cabinet berth?
As the BSY government had to face an embarrassment following the controversial sex CD scandal involving Ramesh Jarkiholi and a woman in a compromising position which led to him being sacked from the previous Cabinet in March-April, to avoid any further controversy, instead of Ramesh, his brother Balachandra Jarkiholi's name is being pushed for the post in Bommai's Cabinet.
Jarkiholis are a strong force in Belagavi district and could break BJP's chances here if neglected.
Last Updated Aug 2, 2021, 10:57 AM IST