Karnataka: Amit Shah, Yediyurappa lay foundation stone for RAF unit, ex-CM accuses BJP of betraying Kannada
A day after Home Minister Amit Shah and Karnataka CM BS Yediyurappa laid the foundation stone for Rapid Action Force building in Bhadravathi, former CM HD Kumaraswamy accused both central and state BJP leaders of betraying Kannadigas. HDK launched a series of attacks over Twitter after the inscription plaque has the name only Hindi and English.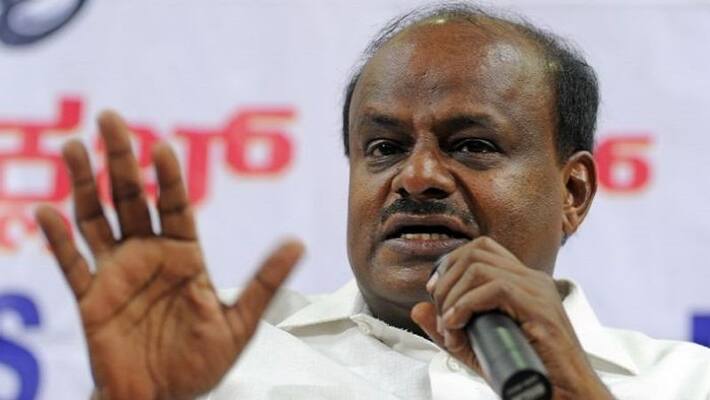 Rapid Action Force unit in Bhadravathi in Shivamogga district has become an opportunity for former CM HD Kumaraswamy to launch a fresh attack on BJP leaders and termed them of betraying Kannada and Kannadigas.
This after the inscription plaque has the name only in English and Hindi.
Taking to Twitter HDK wrote," Union Home Minister Amit Shah laid the foundation stone for the RAF unit in Bhadravathi of Shivamogga district on Saturday. But the inscription plaque unveiled on the occasion to mark the foundation stone laying is in only Hindi and English. It clearly shows..that Kannada has been ignored though the foundation stone has been laid in Karnataka. It is the responsibility of the Centre to show due respect towards the languages of the state as our country, which is known for its diversity, has adopted the three-language formula to ensure that the importance of state languages is not undermined. But violation of such a sensitive norm by the union Home Minister himself is an insult to the Kannada language as well as Kannadigas."
He also lashed out at CM BS Yediyurappa and Deputy CM Govind Karjola for ignoring and not giving importance to the state language.
Indirectly terming CM BS Yediyurappa as 'unfit', HDK further added that, "those who tolerate an insult to the dignity and honour of land, as well as its language, are not fit to hold the reins of the state's administration," a report quoted HDK as saying.
Former CM highlighted the importance of the three-language formula in which, English, Hindi and concerned state language should be there in the plaque of any central government project, however in case of the RAF foundation in Bhadravathi, there seems to have been a violation, feels HDK.
 
Last Updated Jan 17, 2021, 6:21 PM IST