India, Pakistan foreign ministers to attend SAARC meet in New York, but will not meet each other
Last time, the meeting was held in virtual format when the two ministers had left the meeting without listening to each other.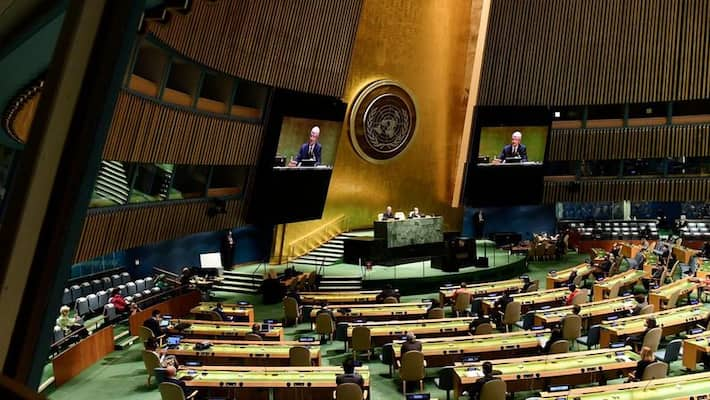 External Affairs ministers of India and Pakistan will be attending the South Asian Association for Regional Cooperation foreign ministers' meeting, which will be held on the sidelines of the United Nations General Assembly in New York on September 25. 
Sources in the government establishment said that no meeting will be held between Indian Foreign Minister S Jaishankar and his Pakistani counterpart Shah Mahmood Qureshi. 
Last time, the meeting was held in virtual format when the two ministers had left the meeting without listening to each other. 
Jaishankar is expected to raise the issue of terrorism and related issues.
The Taliban takeover of Afghanistan is most likely going to dominate the meeting agenda. Jaishankar will present India's viewpoint on the matter and its concerns over the Afghan soil being used to provide safe haven for terror groups and terrorists.
Prime Minister Narendra Modi has already reiterated that the change of guard in Afghanistan happened without negotiation and was not inclusive. 
Speaking at the SCO-CSTO Outreach Summit through video conference last week, PM Modi had said this raised questions with regard to acceptance of the new system. 
He had also called for representation of women, minorities and all sections of Afghan society. 
It is pertinent to mention here that the Taliban seized Afghanistan's capital Kabul without having formal deliberations with the democratic-elected government under Ashraf Ghani on August 15. The Taliban also excluded members of minority groups, ethnic groups and women in its council of ministers. 
Urged the global community to take a decision on giving recognition to the Taliban collectively and with proper deliberation, Prime Minister Modi reiterated that on this matter, New Delhi supported a central role by the United Nations.
Dilemma over Afghanistan's attendance 
Afghanistan became the eighth member of the SAARC in 2007 when the country was being led by Hamid Karzai. 
With the Taliban seizing the country and the global community yet to recognise their administration, it is unlikely that anyone from the war-torn country would participate in the meeting. 
Most of the ministers in the Taliban's interim government are on the United Nations or the US-designated terrorist lists. 
Nepal is the host of the SAARC meeting. The meeting has not taken place in person since 2014. Pakistan was scheduled to hold in 2016 but India refused to attend the meeting after the Pakistan-sponsored terrorists attacked the military installations in Uri in 2016, killing several Indian Army soldiers. Last year, the SAARC meeting was held in virtual format.
Last Updated Sep 20, 2021, 2:42 PM IST