India Army ran a 'military train' for 215 kms to check how quickly it can mobilise
The 'military train' travelled a distance of 215 kilometres from New Rewari in Haryana to New Phulera in Rajasthan.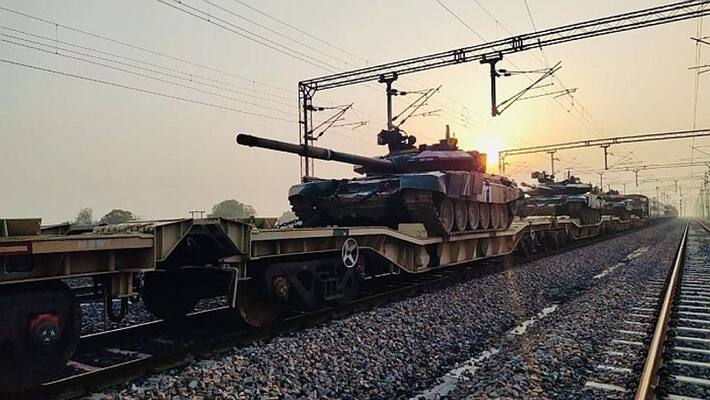 To enhance the mobilisation capability of the armed forces across the country, the Indian Army has successfully conducted a trial of a 'military train' loaded with armoured vehicles and equipment on the recently-developed Dedicated Freight Corridor. 
The 'military train' travelled from New Rewari in Haryana to New Phulera in Rajasthan. 
According to the Indian Army, the intricate and synchronised coordination with the Dedicated Freight Corridor Corporation of India Ltd and Indian Railways will significantly enhance the mobilisation capability of the armed forces. 
Aiming to provide faster movement of freight, the trials were part of the 'Whole of the Nation' approach for optimising national resources and achieving seamless synergy among various ministries and departments.
 
"Interactions by the Indian Army with all stakeholders, including DFCCIL and Indian Railways, will now assist in leveraging the DFC and allied infrastructure into the mobilisation matrix of armed forces," an official said. 
Development of infrastructure at certain locations to support mobilisation and trials to validate move of defence owned rolling stock on Roll On-Roll Off (RO-RO) service is being formalised and modalities are being evolved, he added.
 
"This initiative would set in place processes to ensure that military requirements are dovetailed in the national infrastructure development at the planning stage itself," the Indian Army said. 
Prime Minister Narendra Modi had inaugurated the 306-km stretch of the Western Dedicated Freight Corridor on January 7 this year through video conferencing. On the DFC, the freight trains will run at a speed of 100kmph against the current speed of 70kmph on the Indian Railway tracks. The average speed would be around 70kmph against the existing 26kmph. The load has also been increased from the current 60 tonnes per wagon to 80 tonnes per freight carriage. 
The DFC project involves the construction of six freight corridors traversing the entire country. Initially, the construction of two freight corridors, the Western DFC, connecting the states of Haryana and Maharashtra, and the Eastern DFC, connecting the states Punjab and West Bengal, is being undertaken. The combined length of the Western and Eastern DFCs is approximately 2,843km. The total cost of the project is estimated at $11.38billion.
Last Updated Jun 15, 2021, 2:19 PM IST