Navy, Coast Guard rescue over 300 crew onboard 2 barges, hundreds more stranded at Arabian Sea
The rescue operation is on to rescue crew members of three barges and one drillship.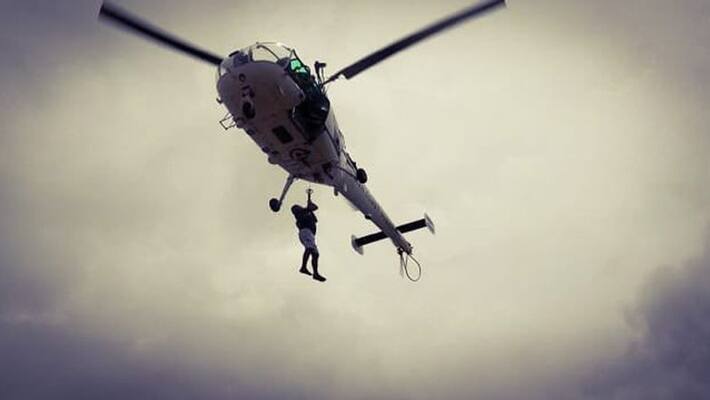 Indian Navy ships have rescued 180 persons so far from the Barge P305 which went adrift off the Heera Oil Fields in the Bombay High area off the Mumbai coast on Monday amidst the cyclone Tuktae in the Arabian Sea.
Indian Navy has also started an aerial search with its surveillance aircraft P8I. Navy's helicopter from INS Chikara in Mumbai has also joined search and rescue operations.
"More helicopters of Indian Navy will also be deployed for SAR based on weather conditions," Indian Navy spokesman Commander Vivek Madhwal said on Tuesday.
The Indian Navy had pressed in three ships -- INS Kochi, INS Talwar and INS Kolkata -- to carry out rescue operations on Monday afternoon. 
INS Kochi and INS Kolkata had so far rescued 132 personnel from Barge P305 which had a total of 273 crew onboard and has now sunk on site. Another 17 crew members were rescued by Offshore Support Vessel Greatship Ahilya and 18 by OSV Ocean Energy while operating in extremely challenging sea conditions. Three crew members were evacuated by the naval helicopter.
"Search and Rescue operations is still continue for the remaining crew," Commander Vivek Madhwal said.
INS Talwar is on its way to render assistance to another oil rig, Sagar Bhushan, with 101 personnel on board and an accommodation barge, SS-3, with 196 personnel onboard -- both of which are adrift and presently located about 50 NM South East of Pipavav Port.
In a separate incident on Monday, the INS Kolkata has also rescued two survivors from the life raft of vessel Vara Prabha. 
Later, the ship joined INS Kochi for the SAR of Barge P305 crew members. 
Meanwhile, all 137 crew members on board Barge 'Gal Constructor', which was adrift at Colaba Point with water ingress in the engine room after being hit by cyclone Tuktae, were evacuated on Tuesday evening. Barge 'Gal Constructor'. 
Defence Ministry Spokesperson A Bharat Bhushan Babu said, "All 137 crew rescued from Gal Constructor. No individual is left. Rescue ops over for the vessel."
The rescued personnel have been airlifted to nearby Wardai beach in Mumbai.  Indian Navy and Indian Coast Guard had pressed their helicopters into service to evacuate the personnel amidst the challenging weather conditions.
The Indian Navy and the Indian Coast Guard are on high alert as severe cyclonic storm Tauktae passed the Mumbai coast towards Gujarat this morning. 
"The Navy has kept its flood rescue teams at INS Shikra in Colaba, INS Trata in Worli, Material Organisation in Ghatkopar, INS Tanaji in Mankhurd, and INS Hamla in Malad ready for deployment. The Navy can also operate its Chetak and Sea King helicopters from INS Shikra depending on the weather," Mumbai-based defence PRO Mehul Karnik said. 
Responding to a distress call, ICG ship Samarth rescued 15 crew from a fishing boat named Milad off Goa coast in a swift operation. 
"All crew members are safe," ICG spokesperson DIG Aniket Singh said.
Also, 40 coast guard disaster relief teams with inflatable boats, lifebuoys and life jackets are on standby along the western coast.
Last Updated May 18, 2021, 7:25 PM IST