Yediyurappa's exit will shrink BJP's social base; golden opportunity for Congress, JDS: Experts
Experts say that BS Yediyurappa resignation from the Karnataka Chief Minister's post will definitely antagonize the dominant Lingayat community and the mutt seers who idolize him.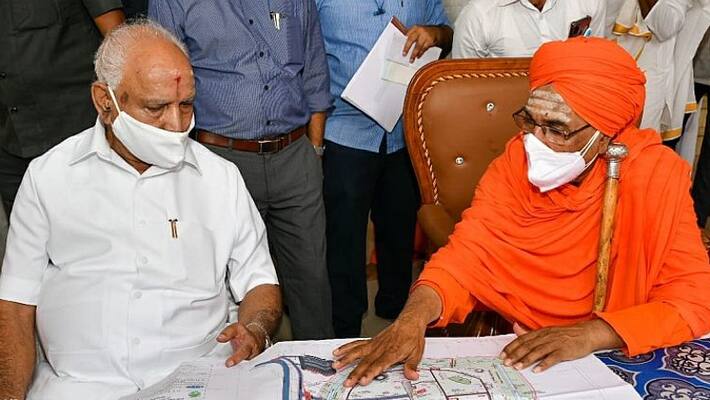 BS Yediyurappa's resignation puts an end to all political speculations that have been dogging the state in the last few weeks.
 
However, this move could now pose a big challenge for Karnataka BJP and serve as an opportunity to the opposition Congress provided the party sets its house in order, feel political analysts.
"The social coalition established by BJP over the years by securing confidence among 3 B's that is Brahmin, Baniya, and Billava caste, and also support from  AHINDA (an acronym for Dalits, backward class and minorities) may erode. Once Yediyurappa exits, some of these sections will go back to its original party and thereby BJP will be reduced to 50 to 70, which is its original number in the state," said Prof H Muzzafar Assadi, Political Scientist, University of Mysore.
Lingayat seers had directly warned the BJP for contemplating replacing Yediyurappa. Prof Assadi said, "One of the mutt seers has openly said, 'we have no hesitancy in supporting Congress'. They want to teach BJP in the next election. If this happens then, BJP 's vote share and social base will shrink."
Echoing similar sentiments on Yediyurappa's unquestionable power and control, political analyst Dr Chandan Gowda of the Institute of Social and Economic Change observed that nobody ever brought the Lingayats together like the way Yediyurappa did. JH Patel was never a Lingayat leader, although he was the CM. There may be a lot of sub-caste, but overall everyone supports him. The community has become uncritical about him in whatever he does, which is never a good thing. He has already shown what he can do by floating the KJP party once.
The mutt leaders wanted the party to allow Yediyurappa to complete the remaining term, which in a way is reasonable as it is he who built the party from scratch and deserves respect, Dr Gowda said.
"It depends on how they (High Command) manage the exit. If they keep Yediyurappa with them and ask him to show how the exit arrangements have to be made, which means get him to choose the chief minister and the DyCM if necessary, who they will be, and he will have terms and conditions like those who supported him to be safeguarded if all these are taken care. If they say 'you are acting too much' and get out here, we will do what we want, then you can expect Yediyurappa to not take everything lightly." said Dr Chandan Gowda.
The fate of over 12 ministers in the Yediyurappa cabinet who were earlier in Congress and JD(S) hangs in the balance now. Experts say some will have to go as Yediyurappa will not be around to protect them.
This may, in a way, also give a reason for them to return to their original parties. Their respective parties may also welcome them back as their seat tally would go up.
"If Congress really wants to cash in on this, this is a golden moment now. They can hammer, and the ruling party as the government instead of addressing Covid situation would be indulging in power tussle," said Dr Gowda.
Last Updated Jul 27, 2021, 11:41 AM IST