ED shocker to tainted politician R Roshan Baig in IMA case, six places being searched in Bengaluru
Enforcement Directorate officials gave a shock to tainted politician and former Minister R Roshan Baig as the team raided his posh house in connection with an alleged offshore investment. It is said the raids are being conducted at six places belonging to Baig.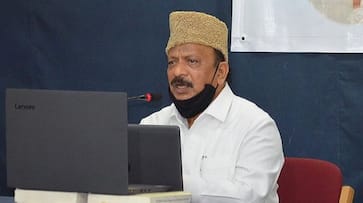 After attaching his properties a few weeks back in connection with IMA, a Ponzi financial firm case, now Enforcement Directorate officials have raided former Minister R Roshan Baig house in connection with alleged offshore investments.
It is said that the ED officials have come to know about Baig's offshore investments. ED officials along with CRPF officials are searching various locations belonging to Baig for more details.
Roshan Baig was a six-time MLA from Shivajinagar and was a three-time Minister. His name cropped up immediately after Bengaluru police arrested IMA MD Mansoor Khan. The case was transferred to the CBI later.
Accused Khan during grilling had named Baig as one of the beneficiaries in a multi-crore ponzi scam. He allegedly told the probing agency that Baig took Rs 400 crore and failed to return which resulted in non-payment of investors to depositors.
Baig was arrested on November 22 last year in this connection and was put in jail. After two weeks he managed to get a conditional bail.
Baig was one among the leaders who rebelled against ex-CM Siddaramaiah and central Congress leadership for not making him a minister and had withdrawn support to HD Kumaraswamy led JD(S)-Congress leadership.
Baig was about to join BJP under Yediyurappa's leadership in 2019, but the saffron party denied entry due to his involvement in the ponzi scam. 
 
Last Updated Aug 5, 2021, 12:06 PM IST