Dengue outbreak: Centre rushes teams to 9 states, 2 Union Territories
The teams have sent to Haryana, Kerala, Punjab, Rajasthan, Tamil Nadu, Uttar Pradesh, Uttarakhand, Delhi and Jammu & Kashmir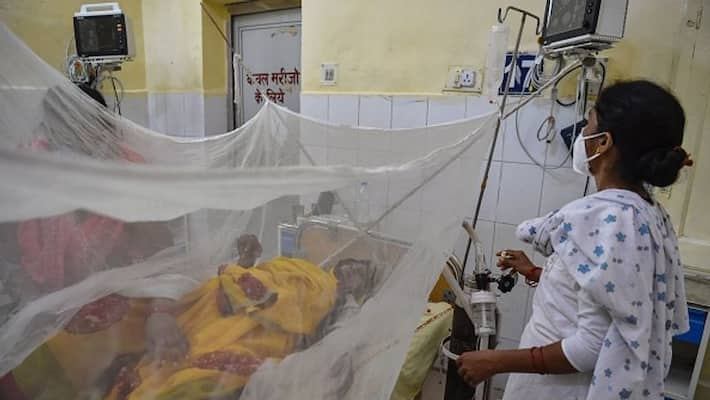 Centre has rushed high-level teams to nine states and Union Territories that have a high caseload of Dengue. The teams have been despatched on the directions of Union Health Minister Mansukh Mandaviya after he chaired a situation review meeting in New Delhi on November 1.
The teams have been sent to Haryana, Kerala, Punjab, Rajasthan, Tamil Nadu, Uttar Pradesh, Uttarakhand, Delhi and Jammu & Kashmir that have reported a sharp uptick in the number of Dengue cases in October compared to September. The teams comprise of officials belonging to the National Vector Borne Disease Control Programme, National Centre for Disease Control and health ministry's regional offices
According to government data, over 1.16 lakh dengue cases have been reported across the country. Worryingly, the Dengue occurrence in some states is significantly higher this year as compared to the number of cases during the same period the previous year. Health Ministry data suggests that 15 States and Union Territories have reported maximum cases this year. These states also contributed to 86 per cent of the country's total dengue cases till October 31, data suggests. 
The teams have been mandated to support the local administrations in mounting an effective public health response. The teams will also compile a report detailing the status of vector control, early detection, availability and use of insecticides, availability of kits and medicines, the status of anti-larval and anti-adult vector control measures etc. They will also brief the State Health authorities about their observations.
Dengue symptoms
Dengue is suspected when an individual has a very high fever (104 degree Celsius) along with other symptoms like severe headache, muscle and joint pains, nausea, vomiting, pain behind the eyes and swollen glands. If not attended to, the individual can enter the critical phase of Dengue in about three to seven days since the start of illness. The critical phase may be characterised by severe abdominal pain, persistent vomiting, bleeding gums, rapid breathing, fatigue and blood in vomit. 
Also Read
From avoiding sugar to managing stress: Ways to keep the heart healthy
World Stroke Day 2021: Minutes can save lives
Last Updated Nov 3, 2021, 10:30 AM IST