Central Vista project: 'Criminal wastage' or just another project?
The Central Vista Project has been the subject of intense political debate in the midst the raging Coronavirus pandemic.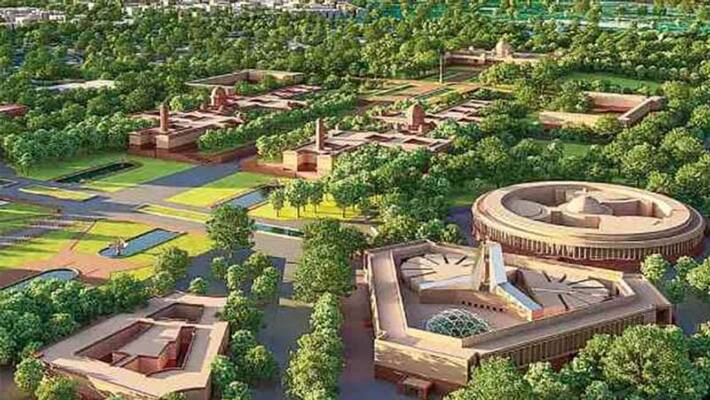 The Central Vista Project has been the subject of intense political debate in the midst of the raging Coronavirus pandemic.
Opposition parties like Congress and the section of the media have questioned the government on its decision to go ahead with work on the Prime Minister's dream project even though it has been unable to even provide medical oxygen to the national capital.
Questioning the need to continue with the project work despite the surge in cases in the national capital and seeking a temporary halt, a petition was filed before the Supreme Court which requested the Delhi High Court to hear the case urgently.
The Central government's over Rs 15,000 crore redevelopment plan for the historically significant Central Vista area of New Delhi envisages a new Parliament, Central Secretariat and union ministries' offices. The plan also envisages a new home for the Prime Minister by December 2022.
Construction work near India Gate has continued even though Delhi has been in lockdown for nearly three weeks. Construction work is permitted at construction sites where workers are living on-site. But, according to media reports, many workers are being transported to the site daily from other parts of Delhi.
Congress leader Rahul Gandhi posted on Twitter, "Central Vista is criminal wastage. Put people's lives at the centre, not your blind arrogance to get a new house."
The government, however, believes that the controversy has been needlessly raked up.
Government sources said that the cost of Central Vista is about Rs 20,000 crore spread over several years, while the Central government has already allocated nearly twice that amount for vaccination. 
India's healthcare budget for this year was over Rs 3 lakh crore.
Calling the Central Vista is just another ongoing project, sources said that while India fights the pandemic, governance in the country has not come to a standstill and that there are hundreds of projects that are currently being executed by various departments. 
These include the new project of reconstructing an MLA hostel in Maharashtra and the construction of a new legislative assembly building in Chhattisgarh. 
The government sources reiterated that for now, only the projects for the new Parliament building and rejuvenation of Central Vista Avenue have been awarded at an estimated cost of Rs 862 crore and Rs 477 crore respectively. 
There are many components in the Central Vista project which are spread over several years, they add.
Last Updated May 8, 2021, 11:06 AM IST