Canada thanks PM Modi for COVID-19 vaccines through billboards seen across Toronto
India has been at the forefront of supplying vaccines to various nations in the world and the gesture has earned accolades not only from allies and global bodies such as the World Health Organisation (WHO), but even from individuals committed to the betterment of human society.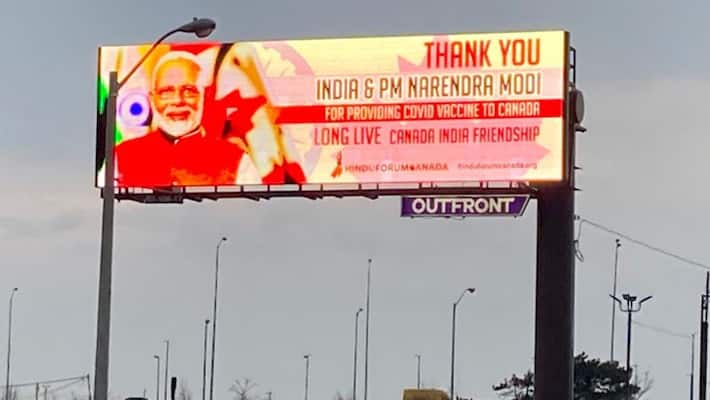 After India sent 5,00,000 doses of the Covid-19 Covishield vaccine to Canada, billboards with pictures of Prime Minister Narendra Modi have been put up in the Greater Toronto area to thank him.
The billboards which have been put up, read, "Thank you India and PM Modi for providing Covid vaccines to Canada. Long live Canada-India friendship".
Prime Minister Narendra Modi had said that 'Made-in-India' vaccines have been supplied to over 50 countries so far. He had also said that New Delhi has plans to supply vaccines to more countries in the months to come.
Last week, Canada received 500,000 doses of Covishield vaccine, the consignment of which was received by Canadian partner Verity Pharmaceuticals.
It is produced at the Pune-based Serum Institute of India. India will be sending a tranche of 1.5 million more doses to Canada.
Prime Minister Modi earlier this month spoke to his Canadian counterpart Justin Trudeau and assured him that India will do its best to support Canada's Covid-19 vaccination efforts.
Expressing his appreciation, the Canadian Prime Minister said that if the world managed to conquer Covid-19, "it would be significantly because of India's tremendous pharmaceutical capacity, and Prime Minister Modi's leadership in sharing this capacity with the world".
In January, India gave a go-ahead for the production of two vaccines - Covaxin by state-owned Bharat Biotech and Covishield by Serum Institute of India (SII). 
Last Updated Mar 11, 2021, 11:14 AM IST