Bharat Bandh: Rakesh Tikait apologises for traffic jams; 'Will compel Centre to listen to farmers'
Speaking to reporters, BKU spokesperson Rakesh Tikait said, "We are hopeful that this time (Bharat Bandh) the government will listen to our demands."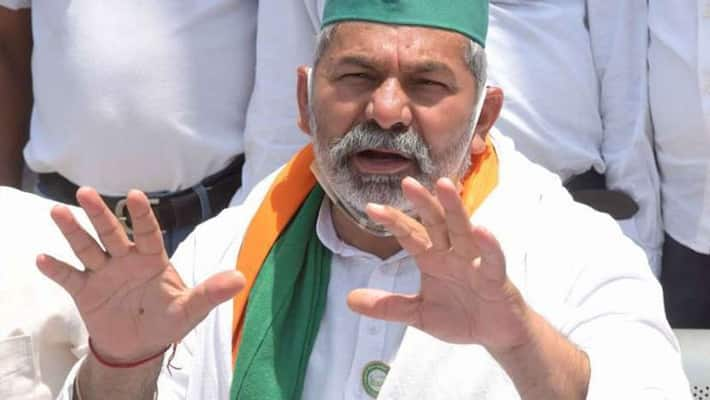 Bharatiya Kisan Union (BKU) spokesperson Rakesh Tikait, who has been spearheading the ongoing farmers' protest against the Centre's three new farm laws since November last year, apologised for the traffic jam at Delhi's borders due to Bharat Bandh on Monday to mark one year of the enactment of these laws by the Centre.
Tikait said that Bharat Bandh got unprecedented support across the country. "We apologise to people facing problems, but farmers have also been facing problems for the last 10 months. Farmers are making good arrangements to allow emergency vehicles to pass and also commuters are provided with refreshments such as water, tea and milk," Tikait wrote on the microblogging site.
He also said that 'Bharat Bandh' will compel the Centre to listen to the voices of farmers.
Speaking to reporters, Tikait said, "We are hopeful that this time (Bharat Bandh) the government will listen to our demands."
Tikait further said, "No matter how long we have to stretch this protest, we will not step back."
Also watch: Bharat Bandh: Students stranded in Karnataka at bus stops, exam postponed
The Samyukta Kisan Morcha has called the Bharat Bandh from 6 am to 4 pm and this has caused heavy traffic jam in Gurugram-Delhi area and Delhi-Noida flyway, as daily commuters were seen waiting in long queues as several lanes were shut due to protesting farmers.
Also, Karnataka, Kerala, Tamil Nadu, and Andhra Pradesh witnessed protests as farmers clashed with police as they protested against the three laws.
Earlier in the day, the BKU spokesperson told news agency ANI that the farmers just want to send a message with this Bharat Bandh and nothing has been sealed.
So far, 11 rounds of talks have been held between the farmer unions and the Centre to arrive at a consensus on the three new farm laws. But the discussions have remained inconclusive. Having braced the harsh cold, sultry heat, heavy rainfall, farmers, who have been camping outside of Delhi-Haryana and Delhi-Uttar Pradesh borders, are ready to stay as long as it is needed. "Ruk jayenge 10 mahine aur (will stay for 10 more months)," said Tikait.
This is the third Bharat Bandh since the three agricultural laws were passed by Parliament.
Last Updated Sep 27, 2021, 3:08 PM IST