10 key takeaways from PM Modi's 75th 'Mann Ki Baat' show
Prime Minister Narendra Modi on Sunday addressed the nation through the 75th edition of his 'Mann Ki Baat' radio programme.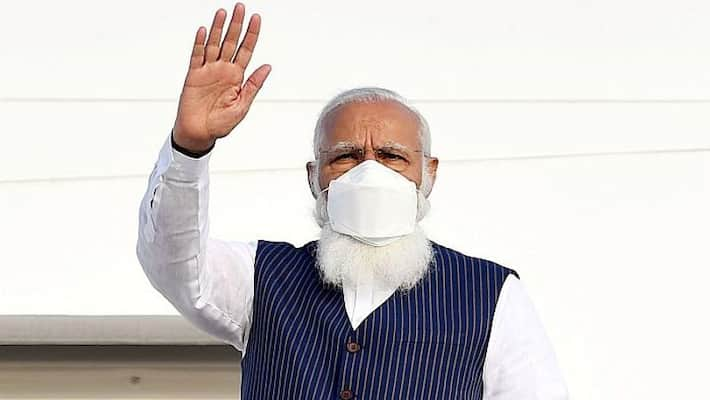 Prime Minister Narendra Modi on Sunday addressed the nation through the 75th edition of his 'Mann Ki Baat' radio programme.
Here are key takeaways from his radio broadcast:
* "It was in March last year that the nation heard about Janata Curfew. From very early on, the people of India have put up a spirited fight against COVID-19. This time last year, the question was whether there would be a vaccine for COVID-19 and by when would it be rolled out. Today, the world's largest vaccination drive is underway in India." 
* "The sacrifices of our great freedom fighters must inspire us to think about our duties as a citizen. This is something Mahatma Gandhi talked about extensively."
* "We spoke to people across each and every corner of the country and learnt about their extraordinary work. You too must have experienced that even in the remotest corners of our country, there lies a vast, unparalleled potential -- myriad gems are being nurtured, ensconced in the lap of Mother India. Well for me, it has been a phenomenal experience in itself to watch society, know about society, realizing her strength."
* "Amrit Mahotsav (75 years of Independence) of our freedom implies that we make new resolves. And to realize those resolves, we persevere wholeheartedly with due diligence. And resolves should be such that they are meant for the welfare of society, for the good of the country, for a bright future for India. Resolves should be such in which the self assumes one responsibility or the other intertwined with one's own duty."
* "From education to entrepreneurship, armed forces to science and technology, the country's daughters are making a distinct mark everywhere. I am especially happy that daughters are making a new place for themselves in sports. Sports  is coming up as a preferred choice in professional choices."
* "When people of India visit any corner of the world, they proudly say that they are Indians. We have a lot to be proud of our yoga, Ayurveda, philosophy and what not! That we talk about with pride."
* "We are as well proud of our local language, dialect, identity, dress, food and drink. We have to work really hard to enrich the immense cultural heritage around us, for it to be passed on to the new generation."
* "Any new beginning is always very special. A new beginning means new possibilities - New Efforts. And, new efforts mean new energy and new vigour."
* "Modernization in the field of Indian agriculture is the need of the hour. It is already late. We have already lost a lot of time." 
* "Novelty and modernization are essential in all fields of life. Otherwise, it becomes a burden at times."
Last Updated Mar 28, 2021, 12:55 PM IST