Kamal Haasan and Rajnikanth both attended the anniversary celebration of DMK mouthpiece 'Murasoli.'
Now the rumour mill is active that Kamal Haasan might soon join DMK.
But Kamal Haasan has explained that he has no plans of joining DMK.
Is Kamal Haasan planning to join DMK? On Thursday evening, veteran Tamil actor Kamal Haasan attended the celebration event of mouthpiece 'Murasoli.' Even superstar Rajinikanth was in attendance but while Kamal sat on the stage with DMK leader MK Stalin, Thalaivar was seated in the audience.
Since then hundreds of the fans of Ulaga Nayagan have been asking him whether he is planning to join Dravida Munnetra Kazhagam (DMK). While Rajinikanth is being pursued by BJP, his contemporary Kamal Haasan is often seen close to DMK. Kamal has often been critical of AIADMK and Stalin several times has come out in support of Kamal against AIADMK.
Both Rajinikanth and Kamal Haasan have announced that they will be joining politics. Superstar Rajnikanth has indicated that he will float his own party, which might then join hands with BJP.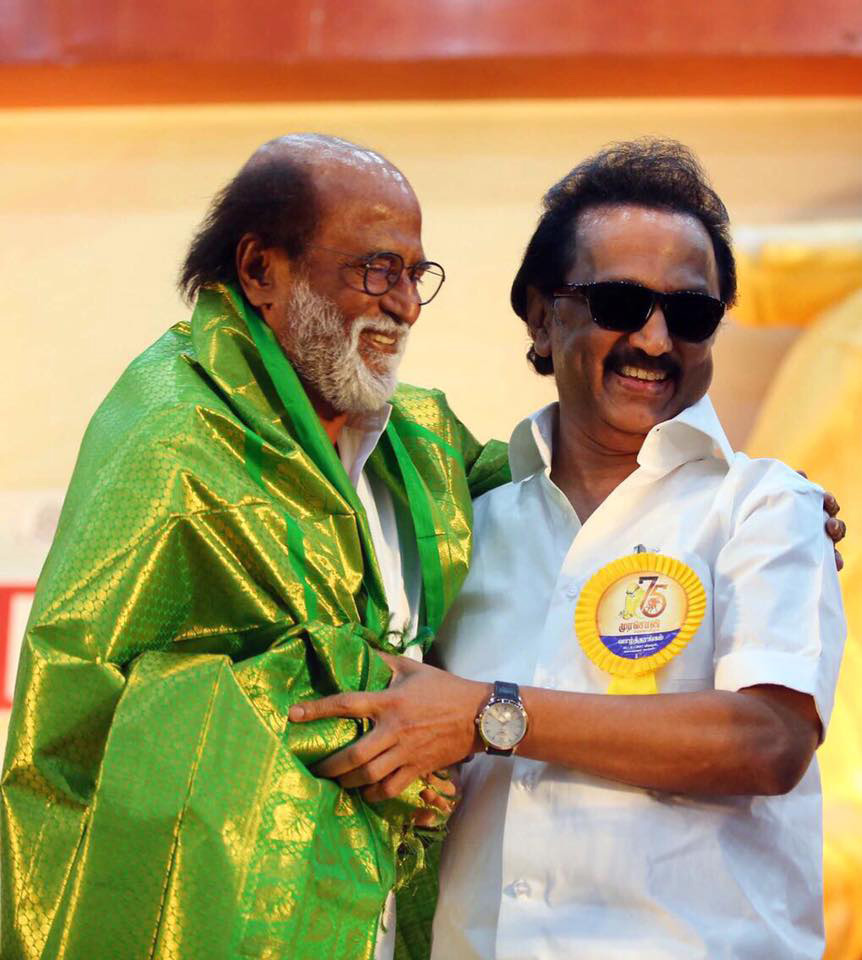 With AIADMK and BJP out of the equation for Kamal, there is only DMK that he is left with. But it seems, Kamal Haasan has even bigger plans. "Had I was to join DMK, I would have done it in 1983," the popular actor said.
The popular actor explained that DMK chief M Karunanidhi had sent him a telegram in 1983 asking him as to why he should not join his party.
"I did not have the courage to either show the telegram to others or respond to it. Till this day, I have not responded to it".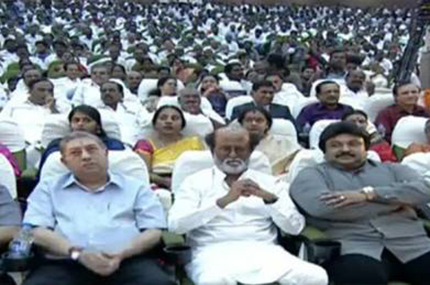 He said Kalaignar (Karunanidhi's popular name) was generous and till today he had not asked the actor about that.
"It is a quality of great people," Haasan said. The Tamil actor, who has taken on the AIADMK-led Tamil Nadu government on corruption issue, said, "Initially, I
thought of being a participant in the DMK event rather than opting to share the dais and address the gathering so that I do not get caught in controversies".
Stating that he had asked the organisers if Rajinikanth will participate and when he was told that his peer would take part and be seated in the front row rather than share the dais, he too thought of doing that.
However, on second thoughts I realised that it was a big opportunity and decided to not let it go, Haasan said.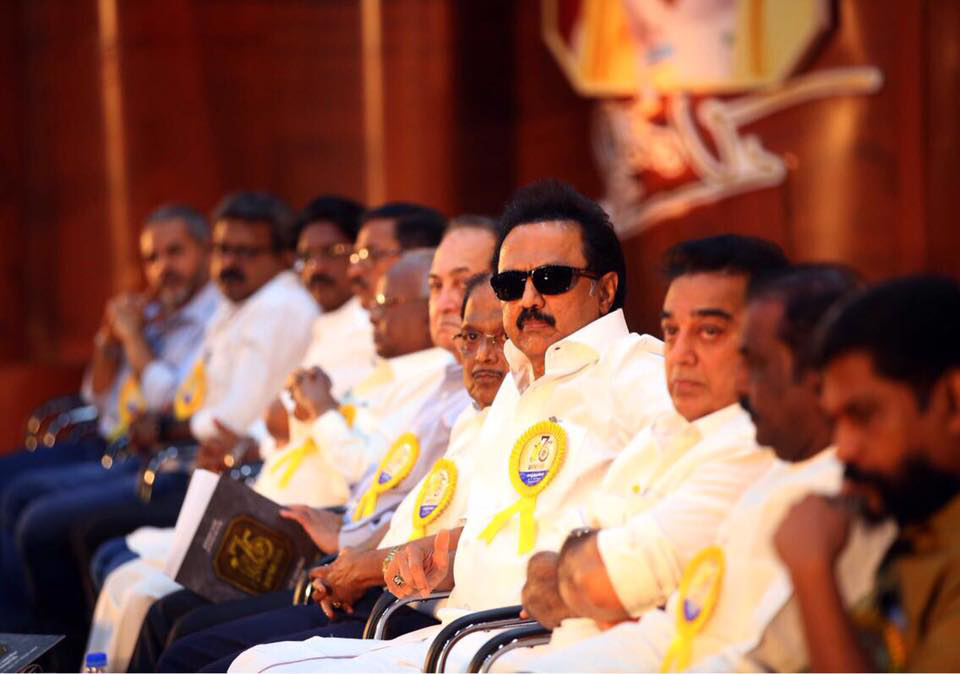 "It is not self-defense (to avoid controversies), it is self-respect which is important," he said to a thunderous applause. The actor had been opposing the ruling AIADMK on corruption charges and the DMK had voiced support for the actor.
"If you ask me if I will make any political criticism, let me say this is not the platform for that...this is an event to celebrate the success of a daily," he said.
Referring to claims by DMK's political rivals that Dravidian ideology would end, the actor said the idea would be around till such time the word Dravidian continued to find a place in the national anthem 'Jana Gana Mana'.
He added that the concept of Dravidian was "pan-Indian" according to archaeology and anthropology.
(With PTI inputs)