A series of audio snippets containing purported phone conversations between the police and Isakkimuthu has gone viral on social media
Isakkimuthu and his family had set themselves ablaze after being hounded by loan sharks
Their relatives had alleged that even a few police personnel were hand-in-glove with the money lenders
In a shocking accident, a couple had set themselves and their two little daughters on fire at the Tirunelveli collectorate in Tamil Nadu on Monday, October 23, unable to face the harassment of money lenders and the apathy of police.
The District Superintendent of Police Arunsakthikumar stated on Tuesday that evidence of an alleged phone conversation between the Achanputhur police officers and the Isakkimuthu family who committed self-immolation would be investigated if it is produced before the police.
Now, a series of audio snippets containing purported phone conversations between the police and Isakkimuthu has gone viral on social media, reported the New Indian Express.
Relatives of the victims handed over a Compact Disc (CD) containing the phone conversations to the District Collector Sandeep Nanduri.
The family along with Isakkimuthu's brother P Gopi had gone to the district collector to petition against the harassment. Gopi had said that his sister-in-law had borrowed Rs 1.45 lakh from money lender T Muthulakshmi of the same locality about eight months ago. He claimed that the family had repaid Rs 2.34 lakh but the lender and her family had been allegedly harassing the family demanding Rs 1.45 lakh more to complete repaying the loan as they had only repaid the interest so far (2.34 lakh).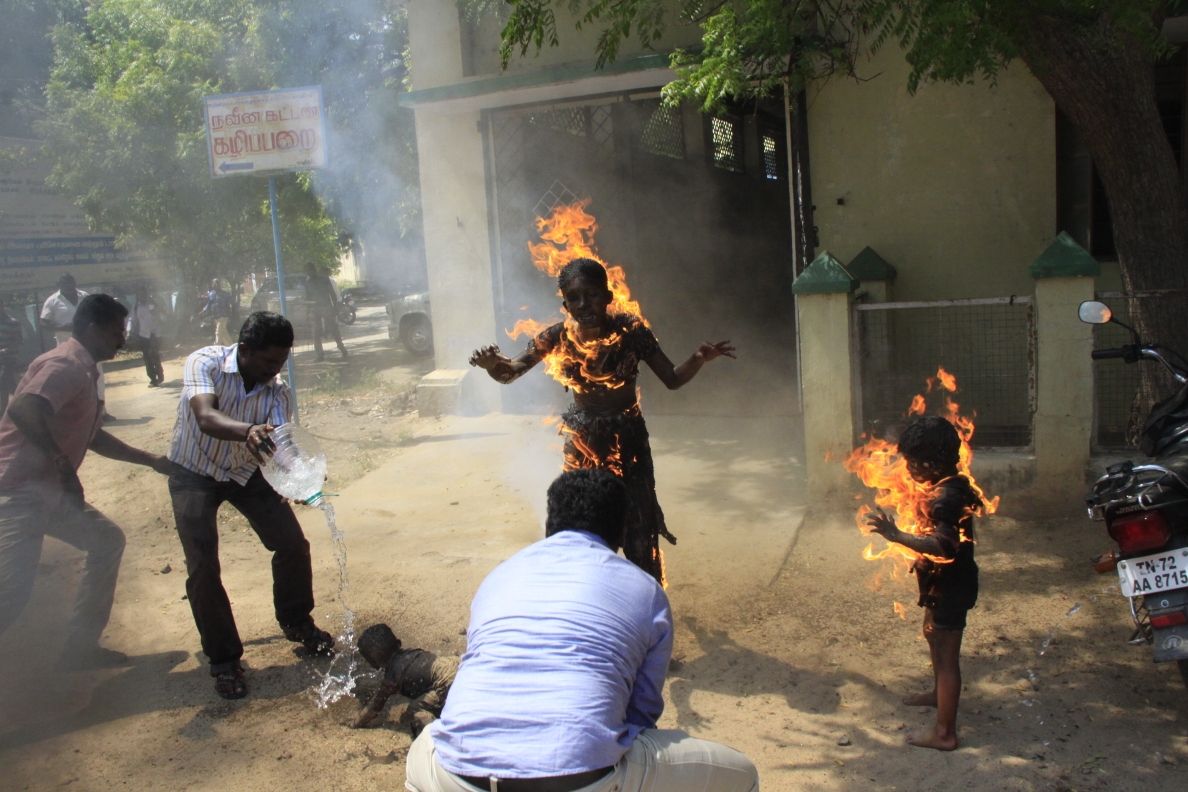 Gopi, however, said he had no clue that they would set themselves and the children on fire.
The wife and the two children succumbed to their burn injuries a day after the incident.
Excerpts from the audio clip
The New Indian Express reported that in one of the clips, a person who appeared to be a policeman was heard abusing Isakkimuthu. "Why are you alive if you can't repay… Even if you submit petitions at different places, where it will go?... Are you trying to threaten the police?... Only beggars, scoundrels and those who consume human waste will be afraid of you...," the voice says.
A second voice says in-between, "I will take care of the issue, sir… I know how to repay… Since you shouted at her (presumed to be Isakkimuthu's wife) yesterday, she says she will end her life… Why don't you investigate the issue fairly, sir?"
The first voice says, "I have not shouted at her… If we need to investigate fairly, we want both the parties to be present… But, you are not coming together and repeatedly petitioning SP office and Collector. Even you have given usury and signed in a document… We (police) are not fools… Have you not you slapped your wife with slippers for taking credit without your knowledge?" To this, the second voice says, "I already hit her and she says she will commit suicide."
In two other audio clips, the police are politely asking Isakkimuthu and Subbulakshmi to appear before them as nearly five complaints have been received against them. According to one of the clips, the couple reportedly told the police that they were in Coimbatore and would come after Deepavali. In another audio, Isakkimuthu claims that he hadn't received any summons from the police at his Kasitharmam residence.