The Tamil Nadu government tabled the state budget recently.
The first copy was presented at Jayalalithaa's memorial site.
This certainly has to be a first. It is laughable and to some extend even out of the usual norm.
The news is not what is there in the budget, but how the Finance minister D Jayakumar decided to place the copy of the budget at former chief minister J Jayalalithaa's memorial.
The AIADMK's decision to present a copy to the dead chief minister caused quite an uproar in the state assembly, with even DMK MLA Udhayasooriyan making an unsavoury remark, which had to be expunged by Speaker P Dhanapal.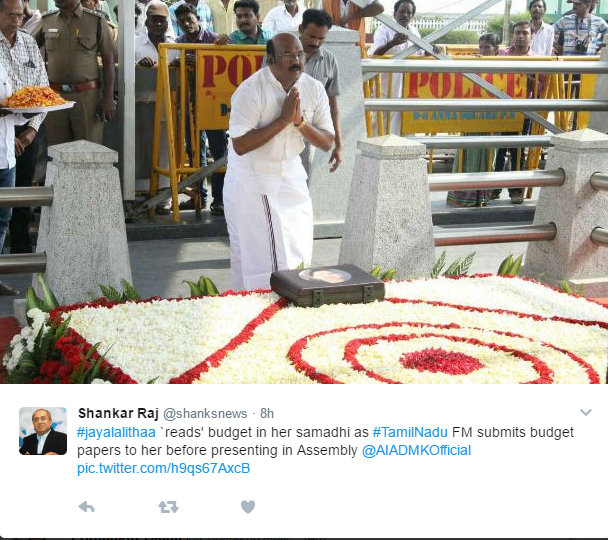 The state opposition, which was furious with the ruling AIADMK government, noted that it was against House tradition. DMK leader Stalin said that placing the Budget on the memorial of Jayalalithaa was against norms and taking it outside the Secretariat before it was tabled in the Assembly went against House tradition.
State Finance minister Jayakumar, in his reply, said that the Budget copy was taken to the memorial only to seek the blessings of his late leader. It would have been a breach of norms if the budget contents had got leaked, he said.
Stalin later urged governor CH Vidyasagar Rao to take action against the Minister.
The DMK leaders also created some ruckus in the assembly after AIADMK took the names of Jayalalithaa and Sasikala, both of who have been convicted in the DA case.