Virat calls Ashwin a 'priceless' cricketer!
Ravichandran Ashwin picked 10 wickets during India's first Test against New Zealand at Kanpur.
Ashwin's 10-for helped India defeat the visitors by 197 runs.
Ashwin earlier became the fastest Indian bowler to reach 200 Test wickets.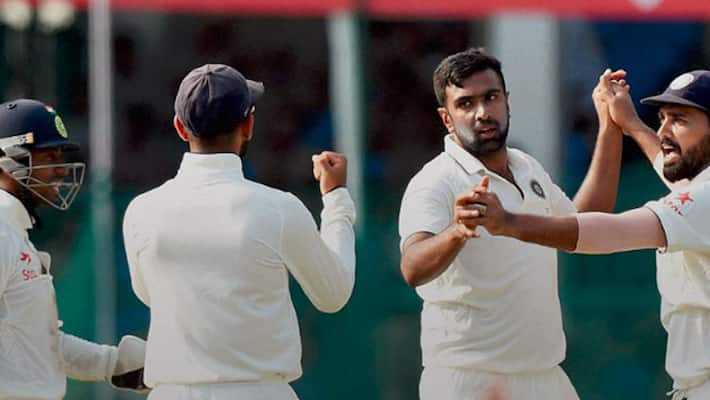 Ashwin, who clinched 200 Test wickets on Sunday, contributed with both bat and ball in the massive win over New Zealand in the opening Test in Kanpur.
Ashwin took 10 wickets and also scored a 40-run cameo in the Indian first innings, playing a crucial role in the 197-run win in the match.
In Pics: Ravichandran Ashwin's milestone wickets
"He's been outstanding for the Indian team. If you see all the impact players in the world, he comes in the top three-four easily. There are quite a few players making the big impact for their respective sides, especially bowlers.
"Bowlers are the one I feel that win you Test matches and Ashwin is one of them," Kohli said after India's big win.
"There's no doubt that he has been bowling wonderfully well for the last couple of years. He works very hard on his game. He is a very keen thinker of the game and understands the game very well.
"He is a very smart cricketer and very intelligent, and that shows in his batting as well. He understands the situation and plays accordingly. He knows when to get runs and when to play the situation out accordingly. So it's priceless to have a cricketer like Ashwin in your Test team," he elaborated further on the skills of his premier spinner.
Read more: Ashwin's 10-for helps IND beat NZ in historic 500th Test
The captain also spoke on how both Ashwin and Ravindra Jadeja, who shared 16 of the 20 Kiwi wickets in the match, take a lead when things do not pan out as planned.
"I like the fact that both of them, at times when they feel like, are trying too much as a team. They come back to you and say that 'I'm trying to bowl to this one plan and let's see how that goes'.
"As a captain, it always gives me more assurance that both these guys obviously know what they are doing, and they are going to pitch the ball in the right areas. The duo is pretty open to hearing suggestions, but when they are very convinced about what they want to do, they tell you that. And I personally like that as a captain as well," the skipper added.
Read more: Ravichandran Ashwin fastest Indian to reach 200 Test wickets
Kohli was also pleased with Cheteshwar Pujara, who he says, has improved a lot as he was now scoring at a brisk pace. Criticism hit Pujara  for a below average show at number three in the previous West Indies tour.
"He is someone who absorbs the pressure really well but after a certain stage in the innings there comes a time when the team needs runs. That's where we felt that he can capitalise. It was just about conveying that to him. He has worked hard on his game.
"He scored at a good strike rate in the Duleep trophy. Even on this wicket, he was scoring at 65, almost 70 strike rate, which for me was a revelation to see Pujara bat that way," he said.
Last Updated Mar 31, 2018, 6:31 PM IST