UIM F1H2O China: India's Team Amaravati all set for its maiden voyage
'We are very excited and looking forward to the debut race from Team Amaravati. The atmosphere in China is fantastic and we have held discussions with the team members on how to perform well and attain a commendable position in the race. This will mark the beginning of Team Amaravati's performance for many years to come,' said Himanshu Shukla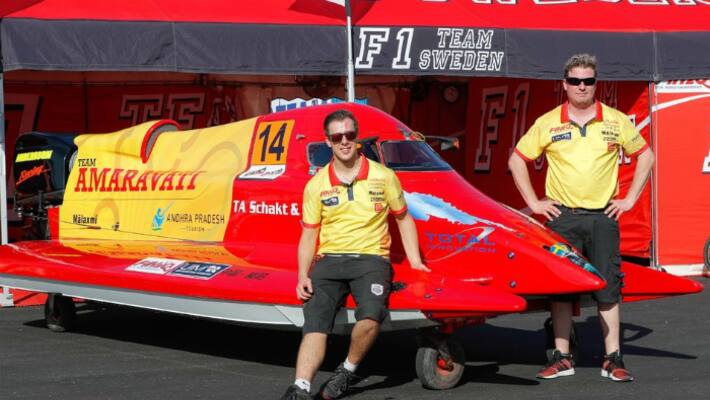 Vijayawada: The race season has kicked off in China with the drivers and squads all set to make a phenomenal comeback in the UIM F1H2O World Championship. 
The exciting battle resumes after a brief break, at the Agile Grand Prix in Xiangyang, China from September 21 to 23. Xiangyang in Hubei province will be the 11th city in China to host a round of the prestigious championship.
Team Abu Dhabi is leading the championship chart with 41 points and a victory in Xiangyang will balance the Grand Prix hat-trick which was last achieved by Scott Gillman in 2004. Team Abu Dhabi has performed tremendously well in London and Evian, which has catapulted them to poll position.
Team Amaravati is enthusiastically preparing to enthrall the F1H2O water sport lovers in China and the world. Team head and driver Jonas Andersson and partner Erik Edin are fully geared up to face stiff competition from across the globe.
"We are very excited and looking forward to the debut race from Team Amaravati. The atmosphere in China is fantastic and we have held discussions with the team members on how to perform well and attain a commendable position in the race. This will mark the beginning of Team Amaravati's performance for many years to come," said Himanshu Shukla, CEO, Andhra Pradesh Tourism Authority.
Majority of the drivers are hoping to have a rise in their fortunes since China is the first stop of phase two of the campaign. All major players on the leader board would hope to add to their winning ways in China. Alex Carella from Team Italy is the most successful and most recent of the present protagonists, winning five times.
Post the China Grand Prix, the championship will move to India for the first time after a gap of 14 years. The Indian edition of F1H2O Motorboat Racing will take place on the River Krishna in Amaravati, Andhra Pradesh. The dates are November 16, 17 and 18.
F1H2O UIM Motorboat Racing is being organised in association with India Extreme Adventure and Andhra Pradesh Tourism Department on the River Krishna in Amaravati, Andhra Pradesh.
Last Updated Sep 21, 2018, 3:51 PM IST