US Open 2023: Rohan Bopanna thanks supporters for showering love after losing in men's doubles final
Indian tennis star Rohan Bopanna's remarkable display of sportsmanship during the US Open 2023 men's doubles final earned him admiration and support from fans, showcasing the true spirit of tennis beyond competition.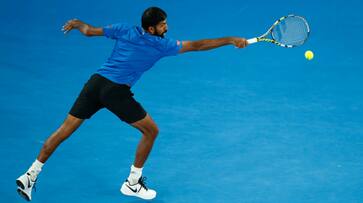 Rohan Bopanna, the Indian tennis veteran, expressed his gratitude to his supporters for their overwhelming love and encouragement following his loss in the men's doubles final at the US Open 2023. Despite the defeat, Bopanna's sportsmanship and remarkable display of honesty during the final match earned him widespread admiration and respect from fans and fellow players alike.
Rohan Bopanna displayed remarkable sportsmanship during the men's doubles final at the US Open in New York on Friday. In a pivotal moment during the match, Bopanna and his Australian partner, Matthew Ebden, were trailing 2-4, 0-15 on Ebden's serve in the final set against the two-time champions, Rajeev Ram of the USA and Joe Salisbury of Great Britain. Ebden hit a crosscourt forehand winner in the deuce court, seemingly winning the point. However, Bopanna, with integrity, raised his hand and informed the chair umpire that the ball had clipped his elbow before crossing the net. Consequently, he conceded the point to their opponents.
Also Read: US Open 2023: Coco Gauff stages remarkable comeback to win the women's singles title
Despite this display of sportsmanship, Bopanna and Ebden ultimately lost the final with a score of 6-2, 3-6, 4-6. During the presentation ceremony, Rajeev Ram acknowledged Bopanna's honesty and expressed his astonishment at such an act of integrity. At the age of 43 years and 6 months, Bopanna became the oldest Grand Slam finalist in the Open era, achieving his second runner-up finish in men's doubles at a Major. His previous final appearance in New York was in 2010, where he and Pakistan's Aisam-ul-Haq Qureshi lost to Mike and Bob Bryan.
Last Updated Sep 10, 2023, 3:50 PM IST