Simona Halep receives four-year tennis ban for doping violations
Former world number one tennis player Simona Halep has been handed a four-year ban from professional tennis after being found guilty of two doping offenses.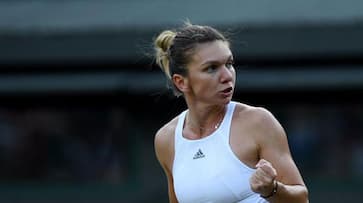 Former world number one Simona Halep has received a four-year ban from professional tennis due to two doping violations, as announced by the International Tennis Integrity Agency on Tuesday. The 31-year-old Romanian had been under provisional suspension since October 2022 following a positive test for the blood-boosting substance Roxadustat during the 2022 US Open. Additionally, in May, she faced a second anti-doping charge related to irregularities in her Athlete Biological Passport (ABP). An independent tribunal upheld both charges. Halep, who has been provisionally suspended since October 2022, will not be eligible to compete in professional tennis until October 6, 2026.
Shortly after the ITIA statement, Halep declared her intention to appeal the decision, stating, "Today (Tuesday), a tribunal under the tennis anti-doping program announced a tentative decision in my case. The past year has been the most challenging match of my life, and unfortunately, my struggle continues. I have dedicated my life to the beautiful game of tennis. I take the rules governing our sport very seriously and take pride in the fact that I have never knowingly or intentionally used any prohibited substances. I refuse to accept their decision of a four-year ban. I plan to appeal to The Court of Arbitration for Sport."
An independent tribunal, which convened in London on June 28-29 and heard testimony from Halep, the winner of the 2018 French Open and 2019 Wimbledon singles titles, reached a verdict on September 11. The tribunal, which also considered evidence from scientific experts and reviewed approximately 8,000 pages of documentation, confirmed that Halep had committed intentional violations under tennis's anti-doping program. One violation pertained to the presence of Roxadustat in her urine sample from the 2022 US Open, while the other violation stemmed from the collection and analysis of 51 blood samples as part of the ABP program.
Roxadustat is a substance that can be used legitimately to treat anaemia but is also on the World Anti-Doping Agency's banned list due to its classification as a blood-doping agent, which enhances haemoglobin and red blood cell production. The biological passport system monitors an athlete's blood indicators over the long term to identify potential doping irregularities.
Also Read: US Open 2023: Twitter erupts in praise for Novak Djokovic's tribute to Kobe Bryant after 24th grand slam win
Halep has asserted that experts determined she accidentally consumed a contaminated supplement. However, the ITIA stated on Tuesday that while the tribunal acknowledged her unintentional ingestion of a contaminated supplement, they concluded that the volume she consumed could not have resulted in the concentration of Roxadustat found in her positive sample.
Karen Moorhouse, the CEO of ITIA, commented, "After a complex and thorough hearing process, we welcome the independent tribunal's decision." She added, "The ITIA has followed proper procedures, as we would with any other individual, in accordance with the World Anti-Doping Code, fulfilling our purpose and responsibility to uphold the principle of fair competition on behalf of the sport." Moorhouse also noted that, given the "significant public interest," the complete decision in Halep's case would be published at a later date.
Also Read: US Open 2023: Coco Gauff stages remarkable comeback to win the women's singles title
Last Updated Sep 13, 2023, 9:39 AM IST