Djokovic targets victory in ATP Finals with an eye on surpassing Federer's record
As Novak Djokovic enters the ATP Finals in Turin, the 24-time Grand Slam champion aims to break records once again by securing his eighth ATP Finals title, surpassing the tie with Roger Federer.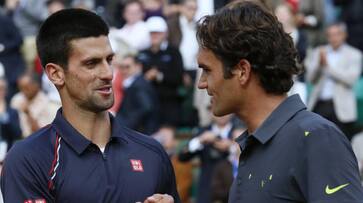 Novak Djokovic is eager to surpass Roger Federer's record for the most ATP Finals titles as he enters the Turin event with his sights set on another milestone. The 24-time Grand Slam champion, who recently clinched his 24th major title at the US Open, is in pursuit of his eighth ATP Finals victory, aiming to break the tie with Federer for the most wins in this prestigious year-end tournament.
Having already equaled Rafael Nadal's record for 22 men's major singles titles earlier this season, Djokovic remains focused on the present challenges while acknowledging the historical significance of his achievements. Despite being well-versed in the sport's records, he emphasizes the importance of directing his attention to the next challenge and maintaining a winning mentality as an active player.
As Djokovic anticipates tough competition in Turin against the top champions of the 2023 ATP Tour season, he reflects on the unique format of the ATP Finals and the significance of every match. After overcoming a stomach virus during his Paris title run, Djokovic expresses excitement about competing in Turin, highlighting the group-stage format that offers opportunities for advancement even after a loss.
With an impressive hard-court record of 33-1 this season, Djokovic, boasting a 91% victory rate, looks forward to concluding the season on a high note. As he enters Turin with confidence and positive feelings, the Serbian star aims to add five more victories to his exceptional season, emphasizing his goal to end the year on the highest possible note.
Also Read: 'Virat Kohli thinks he's Cristiano Ronaldo, but...': Yuvraj Singh's take on Indian star's football skills
Last Updated Nov 10, 2023, 4:12 PM IST