Asian Games 2023: Ankita Raina, Rutuja Bhosale and Ramkumar Ramanathan reach singles pre-quarterfinals
Indian tennis stars Ankita Raina, Rutuja Bhosale, and Ramkumar Ramanathan displayed exceptional performance, securing their spots in the Asian Games tennis singles pre-quarterfinals in Hangzhou with impressive victories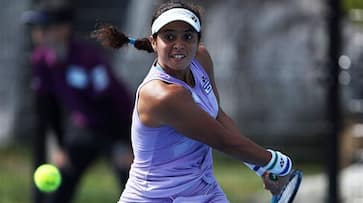 Indian tennis players Ankita Raina, Rutuja Bhosale, and Ramkumar Ramanathan made significant strides at the ongoing Asian Games in Hangzhou. Ankita Raina triumphed over Uzbekistan's Sabrina Olimjonova with a flawless 6-0, 6-0 victory, securing her place in the pre-quarterfinals in just 51 minutes.
Rutuja Bhosale also advanced, defeating Kazakhstan's Aruzhan Sagandykova with a 7-6 (2), 6-2 win. Ramkumar Ramanathan received a walkover as his opponent from Tajikistan, Sunatullo Isroilov, was unable to compete. Sumit Nagal had earlier kicked off the Indian tennis campaign with a commanding 6-0, 6-0 victory over Macao China's Ho Tin Marco.
The Indian men's doubles pair of Saketh Myneni and Ramanathan Ramkumar also progressed to the pre-quarterfinals with a dominant 6-2, 6-3 win against Nepal's Bastola Abhishek and Khadka Pradip.
Earlier, Sumit Nagal started his 19th Asian Games men's singles campaign in style as he defeated Macao China's Ho Tin Marco 6-0, 6-0 in straight sets on Sunday.
Nagal had received a bye in the first round.
The Indian played a flawless game as he thrashed Marco without losing a game. This triumph was not just a personal accomplishment for Nagal, but also a proud moment for India, reinforcing the country's presence in the Asian tennis arena.
It will be interesting to see how things turn out for the Indian tennis team in the next round at the Asian Games in Hangzhou.
Also Read: Asian Games 2023: Jaipur shooter Divyansh Panwar breaks world record to win gold for India
Last Updated Sep 25, 2023, 1:14 PM IST