Asian Games 2023: Jaipur shooter Divyansh Panwar breaks world record to win gold for India
In a remarkable feat at the Asian Games 2023, Jaipur-born shooter Divyansh Panwar, motivated by his parents to switch from PUBG to shooting, shattered China's world record, securing a gold medal and making his nation proud.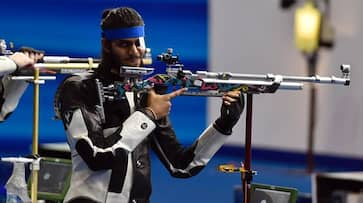 The Indian team secured the gold medal, sparking celebrations from China to Jaipur. Born and raised in Jaipur, Divyansh shattered China's world record in the company of his teammates Rudraksh Patil and Aishwary Tomar. The trio scored a remarkable total of 1893.7, surpassing China's previous record of 1893.3. In this team tournament, all three shooters not only secured the gold medal but also shattered the world record, with Rudraksh Patil contributing 632.5 points, Aishwary Tomar with 631.6 points, and Divyansh Panwar with 629.6 points. Divyansh, who was born in Jaipur and had previously participated in several international tournaments, has now become a shining star for India.
Divyansh's parents work in the medical field at SMS Hospital in Jaipur, and it was in the shooting academy located in Jaipur that Divyansh honed his skills. Inspired by Abhinav Bindra and Apurvi Chandela, Divyansh initially harbored a passion for PUBG. To channel his son's enthusiasm and talents, his parents initiated his journey in the world of shooting. This decision not only curtailed his love for PUBG but also led him to excel in the sport, ultimately bringing glory to the nation.
Also Read: Asian Games 2023: India's Itinerary for September 25th - Event details, schedules and more
Last Updated Sep 25, 2023, 11:52 AM IST