After a lifetime of corruption, is this how we 'reward' Kalmadi?
The IOA has awarded Suresh Kalmadi and Abhay Singh Chautala.
Both are tainted and scam-accused, with Kalmadi even spending time in jail.
The two have been appointed as 'Life Presidents' by the Association.
The IOA says it is not answerable to anyone as it is an independent body.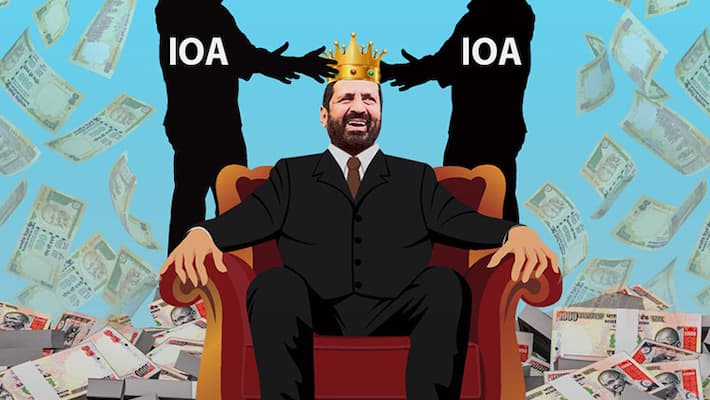 To meet a sportsperson and listen to them speak about their pride to play and win under the Indian flag is a moving experience. 

To even simply listen to the heads of the bodies that 'represent' India across the world is sometimes a stomach-churning experience, as the inherent corruption and disgusting nepotism rampant in many bodies becomes apparent. 

For decades now we have lived with stories of Sports Ministers and Association heads basically using Indian Sports as a way to go on a world tour and steal money from the country, shamelessly destroying the dreams of the thousands of hard-working, usually poor, sportspersons. 

Few things make this more obvious than the current scandal around the Indian Olympics Association. Commonwealth Games corruption scandal-tainted Suresh Kalmadi was made the 'Life President' of the Indian Olympic Association in its Annual General Body Meeting. Another tainted official, Abhay Singh Chautala, was also made the Life President by the IOA.

Kalmadi served as IOA president from 1996 to 2011 and was jailed for ten months for his involvement in the 2010 Delhi Commonwealth Games corruption scandal but later released on bail. 

The Pune-born administrator, also a former Congress Member of Parliament, was a powerful sports officials in his heydeys. He was the president of Asian Athletics Association for 13 years from 2000 to 2013. He was last year made Life President of the Asian Athletics body last year. 

Kalmadi, now 72, was also a member of the powerful ruling council of the International Athletics Federation (IAAF) from 2001 to 2013. 

Chautala served as the president of Indian Olympic Association from December 2012 to February 2014 when the IOA was suspended by the parent International Olympic Committee for fielding charge-sheeted candidates at the elections. His election as IOA chief was annulled by the IOC. 

Only after the IOA Constitution was amended to ensure that charge-framed candidates are not allowed to contest elections, the IOC revoked the suspension on IOA in February 2014. 

Chautala had served as president of erstwhile Indian Amateur Boxing Federation which was terminated from recognition in the world body AIBA in 2013 for possible manipulation in IABF elections. 

Despite such black marks, it is not surprising people like Kalmadi are considered 'sports' bigwigs. Politicians of every party fill the ranks of these bodies as if they somehow know more about sports than the ones who actually play it. 

Most of them at senior citizens, too feeble to walk properly, having last played a sport when they were children. But they all claim a special privilege and run India's sports - mostly into the ground. 

The motives behind this are obvious - they want good lives for themselves, their friends and their family - exploiting the blood and sweat of true sportsperson without an iota of shame. 

They believe funds, equipment, a spot of the team is a privilege that is theirs to dole out to those willing to dance to their tunes, and not a position to be earned through talent. 

What must India do to get rid of such diseases within our sports bodies? 
For the IOA currently, nothing much can be done directly. It is an independent body and clearly just wants to reward its 'old pals', whatever that means for India's global sports position. 

But at the same time, nobody within this country can claim it is above the country itself. If the government, or the people in general, feel the corrupt should not be part of the IOA, the IOA should accede to the demand and rollback their decision. 

But shaming the IOA aside, the government does fund numerous agencies and sports bodies, all of whom are needed to make an Olympic Contingent. An immediate ban on associating with the IOA should be imposed on anybody that accepts Govt's funds. 

Back in 2011, a bill had been tabled in Parliament which sought to ban 'public persons', politicians and bureaucrats, from holding positions in sports bodies. That bill should be re-tabled and passed. 

And lastly, ultimately the International Olympics Committee should be approached and asked to bring pressure on their Indian branch. 
Last Updated Mar 31, 2018, 6:54 PM IST