Bengaluru FC: Sunil Chhetri wishes to end Doha on happy note!
Bengaluru FC is the first Indian club to have qualified for the AFC Cup final.
They face Iraq's Air Force FC on November 5.
The AFC Cup 2016 final will be played in Doha's Suheim Bin Hamad Stadium.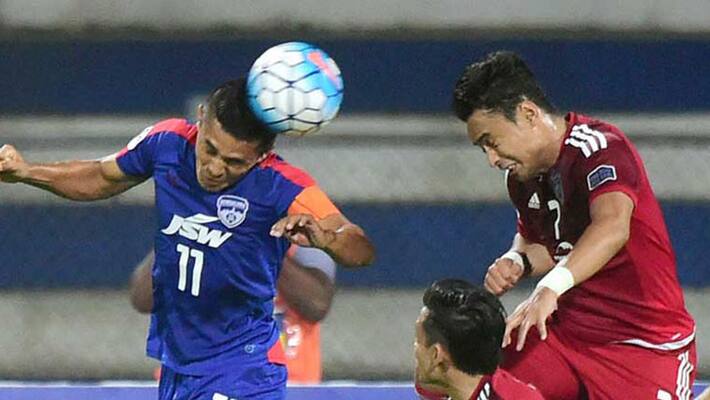 Bengaluru FC, which came into action three years ago, has made its mark in Indian football.
Read more: Bengaluru FC scripts history, first Indian team to reach AFC final
Led by former Indian skipper, Sunil Chhetri, the club has two I-League titles and a Federation Cup victory in a very short span of time.
Bengaluru FC, the first Indian club to have qualified for the AFC Cup final, are a win away from creating history and they face Iraq's Air Force FC in the final at Suheim Bin Hamad Stadium in Doha on Saturday.
The Iraqi team has scored 26 goals so far in the tournament with a total of nine goals coming in the last five games.
Chhetri, who netted twice in the second leg of the semi-final against Johor Darul Ta'zim, is being optimistic about holding the coveted AFC Cup at the end of Saturday night.
"Doha 2016 is an entirely whole new chapter and this time; it's in club colours. We're one good game away from something special. You cannot compare the two tournaments. But I hope we leave Doha on a very happy note this time around.
"The results should do all the talking and not me. Bengaluru FC, in its three years of existence, won two I-League titles, a Federation Cup, made the last-16 in its first year of Asian competition and now are in the final of the AFC Cup. I'm not sure if there's a better three-year record in club football in the country," he told AIFF media.
Former Bengaluru FC manager, Ashley Westwood, built the club on the bricks of hard work and determination and Chhetri has suggested that the ethics have not been changed one bit.
"Hard work has been an ethic that this club has built its foundations on and that hasn't changed one bit. Yes, the occasion is big, and the stakes are higher than before, and we are doing everything we possibly can to make sure we give a good account of ourselves and Indian football on November 5," the Bengaluru FC captain signed off.
Last Updated Mar 31, 2018, 6:59 PM IST