Formula One driver Carlos Sainz's bold pursuit; chases down robbers who stole $600k watch
Carlos Sainz Jr displayed remarkable bravery off the racetrack when he became the target of a robbery in Milan. Following his podium finish at the Italian Grand Prix, thieves snatched his prized 500,000-pound ($629,717) Richard Mille watch.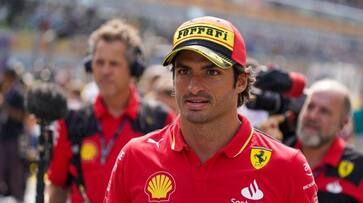 Following his impressive third-place finish at the Italian Grand Prix in Milan, Formula One Ferrari driver Carlos Sainz Jr found himself the victim of a robbery, with his valuable 500,000-pound ($629,717) Richard Mille wristwatch taken. However, Sainz proved his speed extends beyond the racetrack as he successfully chased down the culprits.
Reportedly, the incident occurred near Milan's Armani hotel, with Sainz, still clad in his racing attire after leaving the Monza circuit, becoming a target for thieves. Accounts from Italy reveal that Sainz, accompanied by his trainer and assisted by members of the public who witnessed the theft, pursued the robbers, ultimately catching up with them.
Videos of the scene depict the police apprehending one suspect, while Sainz is seen a short distance away, standing upright, appearing to catch his breath with his hands on his knees.
Subsequently, Sainz was captured on camera recovering his composure while law enforcement officers handcuffed one of the suspects. In response to the incident, he took to social media to share his account.
Also Read: Daniel Ricciardo aims for swift recovery from hand injury; Alpha Tauri's Liam Lawson steps in
"As many of you already know, yesterday we experienced an unfortunate incident in Milano. The most important thing is that we are all OK, and this will only remain as an unpleasant anecdote," Sainz conveyed.
He continued, "Thanks to all the people who helped us yesterday, to the Milan Police for their very fast intervention, and thanks for all your messages."
Carlos Sainz Jr, born Carlos Sainz Vazquez de Castro on September 1, 1994, in Madrid, Spain, is a renowned Spanish racing driver celebrated for his Formula One career.
Last Updated Sep 5, 2023, 3:59 PM IST