Asian Games 2023: Kiran Baliyan reveals being unaware she ended India's 72-year medal drought in shot put
Kiran Baliyan created history with a bronze medal in shot put at the Asian Games 2023 on Friday, marking the first Indian woman to achieve this feat in 72 years.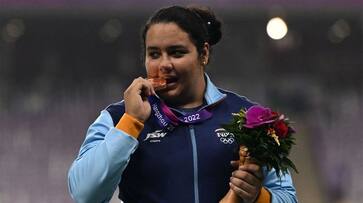 Kiran Baliyan made history by becoming the first Indian woman in 72 years to win a medal in the shot put event at the Asian Games 2023 in Hangzhou, China, securing a bronze on the opening day of competitions on Friday. The 24-year-old athlete achieved a distance of 17.36 meters in her third attempt, marking her best performance of the day and opening India's medal account.
Baliyan's accomplishment made her only the second Indian woman to win a medal in women's shot put at the Asian Games, following Barbara Webster, an Anglo-Indian who won a bronze in the inaugural edition in New Delhi in 1951. Baliyan's season's best and personal best of 17.92 meters was achieved when she finished second in the Indian Grand Prix 5 in Chandigarh on September 10.
Reflecting on her achievement, Baliyan expressed her focus on producing her best performance, although she wasn't entirely satisfied with her performance. "I did not know the history (first Indian woman shot putter to win an Asian Games medal after 1951). My focus was to produce my best performance. I could not do that and I am not happy with my performance. But I won a medal, so I am very happy," she said later.
Kiran Baliyan's journey into shot put was accidental, as her name was mistakenly entered into a junior tournament nine years ago. She is the daughter of a traffic police head constable in Meerut.
In the same event, Manpreet Kaur, another Indian competitor, finished fifth with a best throw of 16.25 meters.
In the women's 400m race, Himanshi Malik faced disappointment as she ran slowly for the second time in less than three weeks, finishing fifth in her heat and failing to qualify for the finals. Malik clocked 57.82 seconds, slower than her previous time of 57.59 seconds at the Indian Grand Prix 5 in Chandigarh on September 10. Her timing was significantly outside her season's and personal best of 51.76 seconds.
In contrast, Aishwraya Mishra qualified for the final round after finishing second in her heat with a season's best time of 52.73 seconds.
In the men's 400m race, Muhammed Ajmal secured a spot in the finals by finishing second in his heat with a time of 45.76 seconds. However, Muhammed Anas Yahiya failed to qualify after clocking 46.29 seconds for a third-place finish in his heat.
In the women's hammer throw final, Tanya Chaudhary and Rachna Kumari finished seventh and ninth with performances of 60.50 meters and 58.13 meters, respectively.
National record holder Priyanka Goswami finished fifth in the women's 20km race walk event with a time of 1 hour 43 minutes and 7 seconds, significantly outside her season's and personal best.
In the men's 20km event, Vikash Singh, replacing the injured national record holder Akshdeep Singh, also finished fifth, clocking 1 hour 27 minutes and 33 seconds. His season's and personal best is 1 hour 20 minutes and 5 seconds. Sandeep Singh, the other Indian in the race, was disqualified during the event.
Last Updated Sep 29, 2023, 9:47 PM IST