Asian Games 2023: Roshibina Devi clinches Silver in Women's 60kg Wushu Sanda
India's Naorem Roshibina Devi demonstrated exceptional sportsmanship but secured a silver medal in the women's 60kg Wushu Sanda event at the Asian Games.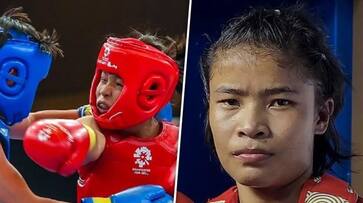 In the highly anticipated women's 60kg wushu sanda final at the Asian Games, India's Naorem Roshibina Devi displayed remarkable skill and determination, ultimately securing a silver medal despite a formidable challenge from the local heavyweight, Wu Xiaowei. Unfortunately, Roshibina faced an uphill battle against the reigning champion, Wu Xiaowei, who showcased her dominance from the very beginning. The local favourite unleashed an aggressive first round, executing a splendid takedown that put Roshibina on the defensive.
Despite her best efforts, Roshibina struggled to regain control of the match. She attempted to outmaneuver Wu Xiaowei by grasping her opponent's leg and pushing her towards the mat's edges. However, the first round concluded with a 1-0 lead in favour of the Chinese athlete.
In the second round, Wu Xiaowei maintained a vigilant stance and sealed her victory with a precise attack on Roshibina Devi's torso. While Roshibina secured a silver medal in this prestigious event, her valiant effort against the reigning champion was commendable.
It's worth noting that Roshibina Devi had previously won a bronze medal in the 2018 edition of the Asian Games held in Jakarta, showcasing her consistent excellence in wushu sanda.
Also Read: Asian Games 2023: Nepal's Dipendra Singh sets new record of the fastest T20I fifty; Smashes six sixers - WATCH
Last Updated Sep 28, 2023, 10:29 AM IST