Asian Games 2023: India faces uphill battle against China in opener amid controversy
In the lead-up to the Asian Games 2023, India's football team grapples with a challenging start, facing a formidable Chinese squad in their opener. This showdown is marred by last-minute squad selections, minimal training, and key player exclusions, making India the clear underdogs in the encounter.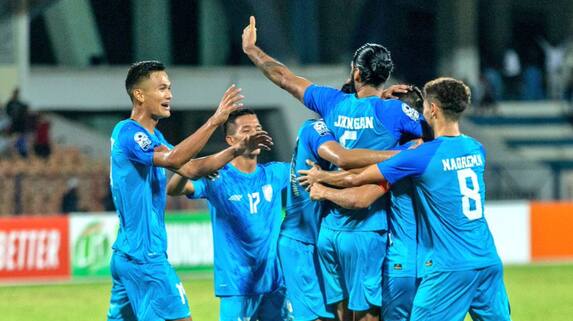 In the upcoming Asian Games 2023, India finds itself in a challenging situation as they prepare to face a formidable Chinese team in their football opener. Due to the last-minute squad announcement, the Indian team has had no opportunity for training or proper rest leading up to the match, making them clear underdogs against China. The Indian squad was hastily assembled, and the team departed for China without a single training session. Additionally, two players, Konsam Chinglensana Singh and Lalchungnunga, will join the team later due to visa issues, making them unavailable for the crucial Group A match against China. 
Furthermore, head coach Igor Stimac has made the decision not to field senior players Sandesh Jhingan and Sunil Chhetri in the opening match to preserve them for later games. Chhetri, in particular, had limited training time due to personal commitments. Stimac's strategy reflects the acknowledgment that India's best chances for victory lie in matches against Bangladesh and Myanmar, rather than against the strong Chinese team, given the lack of rest and training. The coach has been forced to conduct strategy sessions on the aircraft and at the airport due to the rushed preparations.
China holds a stronger position in Asian football compared to India, and they will benefit from playing on their home turf at the Huanglong Sports Center Stadium. For India, this match could mark their first outdoor activity in the tournament.
The last meeting between these two nations in the Asian Games occurred in 2002, with India losing 0-2. The Indian team at the time featured notable players such as Bhaichung Bhutia, Shanmugam Venkatesh, Jo Paul Ancheri, Renedy Singh, and current assistant coach Mahesh Gawli.
Also Read: LaLiga 2023/24: Carlo Ancelotti frustrated by Real Madrid's defensive woes
Stimac openly acknowledges the tough challenge his team faces against China, especially considering the controversy surrounding the squad selection and eligibility criteria exemptions granted for their participation in the Games. China has been diligently preparing their team for this tournament, playing quality matches against strong opponents since March.
In terms of China's playing style, they mostly favour a 4-4-2 system but may occasionally switch to a 3-4-3 formation. They rely on three senior players, including a prolific striker from the Chinese Super League and an experienced attacking midfielder.
Stimac is contemplating whether to allocate all their energy to the match against China or conserve it for the subsequent two matches in their quest to advance to the knockout rounds. He emphasis es that no tournament is taken lightly, and the goal is for the Indian players to give their best performances.
Thirteen players initially selected for the Indian squad were unavailable due to commitments with their Indian Super League clubs, including key players like Jhingan and goalkeeper Gurpreet Singh Sandhu. The revised squad of 22, including Jhingan, was announced after extensive negotiations with the players and clubs.
Also Read: EPL 2023/24: Trossard, Arteta delighted after Arsenal beat Everton to break Goodison Park curse - WATCH
Last Updated Sep 18, 2023, 7:57 PM IST