New banter begins: Anderson takes dig at Kohli
Kohli scored his career's third Test double hundred on Sunday.
Anderson, meanwhile, said that the pitch has no pace to trouble Kohli.
England at the end of fourth day, trailed India by 49 runs with four wickets in hand.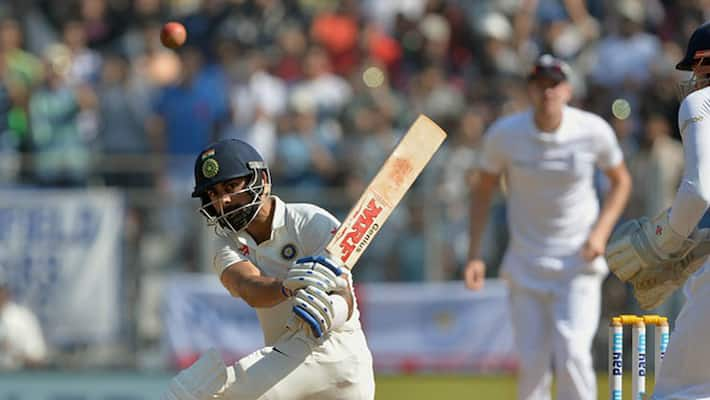 However, English pacer, James Anderson, took a slight dig at Kohli by saying that Indian captain's technical glitches, if any, aren't visible because of the helpful Indian tracks which lack pace and movement.
Read more: Ashwin time and again proves why he is the best!
Anderson had made Kohli his bunny back in 2014 during the series in England where the batsman was repeatedly nicking away going deliveries outside the off-stump.
Now, it's payback time for Kohli. The Indian Test skipper has already scored 640 runs in seven innings at an insane average of 128.00, having severely punished the visitors.
Watch the legendary moment here - Kohli's 3rd Test double hundred:
✨ #ViratKholi ❤️The RunMachine Completing his Double 100 @Wankhade Stadium' Jayant Yadav On NonStriker! 🙌 #IndvsEng #India🇮🇳 #IndianForever pic.twitter.com/1JP944PC88

— ❤Shraan (@AnillRockkxxzz) December 11, 2016
Asked what has changed in Kohli's technique, the seasoned Anderson's answer wasn't a generous one.
"I am not sure if he (Kohli) has changed. I just think any technical deficiencies he has got are not in play out here. The wickets just take that out of the equation. There is not that pace in the wicket to get the nicks like we did against him in England – with a bit more movement," said England's highest ever wicket-taker in Test matches.
"When that (pace and movement) is not there, he (Kohli) is very much suited to playing in these conditions. He is an excellent player of spin – and if you are not banging on the money and don't take your chances, he will punish you," Anderson did not hide what he felt about Kohli's technique on a day when the skipper scored a career-best 235.
But the veteran admitted that they could not execute their plans against Jayant Yadav despite being aware that he is an accomplished batsman.
Watch the perfect reception the Wankhede crowd gave Kohli on Day 4:
Saw the legend's @imVkohli innings up close and personal..sublime innings..brilliant crowd.Perfect test match day #wankhede #indvseng #kohli pic.twitter.com/EgW3RlPpFU

— Teeshay (@teeshays) December 11, 2016
On the other hand, he heaped praises on India's new Test centurion, Jayant Yadav.
"We plan for every batsman -- from Nos 1 to 11. We have played three Tests now against Yadav, so it is no surprise – we knew he could bat very competently. We had plans for him.
"Sometimes they don't come off; sometimes you don't execute your plans well enough, as was the case today. I thought he played exceptionally well," Anderson added.
Last Updated Mar 31, 2018, 6:41 PM IST