Maruti Suzuki Dakshin Dare rally: Gaurav Gill returns after 6 years to clinch title
'Even after all these years, I retain the same enthusiasm for rallying. I am motivated enough to give 200% each time I drive,' Gill said, while accepting the team championship trophy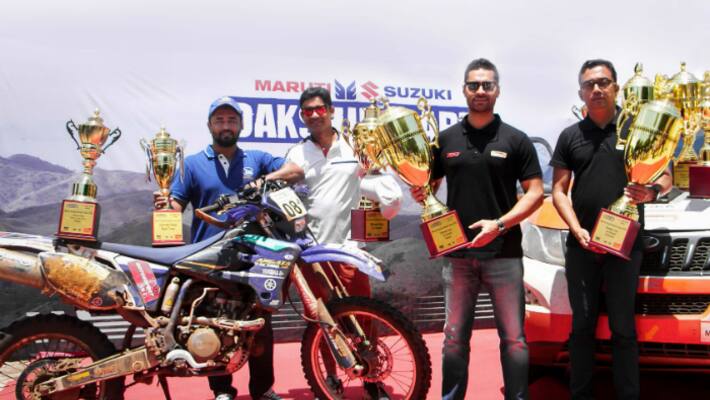 Goa: Six years after his first and triumphant foray, Gaurav Gill returned to conquer the Maruti Suzuki Dakshin Dare once again, scorching the field in his inimitable style over five gruelling days, here on Saturday (September 8).
With his trusted navigator Musa Sherif by his side, the six-time APRC champion won each of the five legs and most of the 15 Special Stages to re-emphasise his dominance in the country.
In the bike category, Vishwas SD claimed the overall title, making the most of overnight leader and firm favourite Yuva Kumar's misfortune in literally the last Special Stage, SS12, of the rally.
Yuva, who was leading all the way from the start, saw his bike broke down with just 15 kilometres to go and by the time he could repair the damage, he lost 15 minutes and the crown.
Gill's teammate Philippos Matthai (with PVS Moorthy) claimed the overall second place in the car category while Maruti Suzuki's Samrat Yadav (with Karan Aukta) held on to the third position.
Gill and Musa crossed a significant milestone while racing away to their second victory in the Dakshin Dare, organised by Motorsport Inc; it was their 50th rally together and their 31st win to set a unique Indian record. Incredibly, they made the podium each of the 35 times they had completed a rally, missing out the remaining 15 times only due to DNFs.
"Even after all these years, I retain the same enthusiasm for rallying. I am motivated enough to give 200% each time I drive," Gill said, while accepting the team championship trophy.
"We had a very good team and a great strategy that helped us last five tough days," he added.
Gill took 06:57:44 to complete the five legs, winning with a handsome margin of over 15 minutes. On the last day, he went all out in the rally's longest stage and clocked 01:15:50 minutes for the 70 kilometres.
Team Maruti Suzuki was in the thick of all the action, with Sandeep Sharma and Suresh Rana grabbing the fourth and fifth places.
The 2,000-kilometre rally began in Bangalore on September 2 and traversed through Karnataka and Maharashtra before finishing in Goa on Saturday night.
Results
Cars
1. Gaurav Gill/Musa Sharif – 6:57:44; 2. Phillippos Matthai/PVS Moorthy - 7:12:00; 3. Samrat Yadav/Karan Aukta - 7:21:10
Bikes
1. Vishwas SD; 2. Vinay Prasad; 3. Yuva Kumar
Car Open
1. Pramod Vig/Prakash M; 2. Raghunandan/Sakthevel; 3. Santhosh/Naga
SUV Open
1. Vinay Kumar/Ravi Kumar
Day Car – OE
1. Srikanth/Raghuraman; 2. Nanditha Reddy/Sanjana Reddy
SUV – OE
1. Philip Baklin/David Sharon; 2. Deepak Sachdeva/Japjyot Singh
Day Couple
1. Captain Abhilasha Singh/Shailendra Singh; 2. Anil Abbas/Sini Anil; 3. Snighda Kemkar/Balachandra
Day All Ladies
1. Geetha Wadhwa/Pratibha; 2. Ashima Duggal/Amrita Shergil; 3. Usha Jain/Harshitha J Sonia
Last Updated Sep 8, 2018, 4:20 PM IST