ISL Children's League launched; over 14,000 kids enroll
There will be four categories, Under-6, U-8, U-10 and U-12 in the ISL Children's League. The football league will be held in West Bengal, Meghalaya and Arunachal Pradesh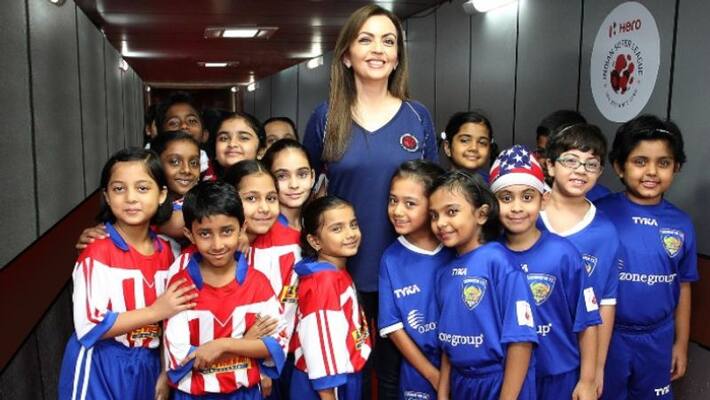 Kolkata: Football Sports Development Limited (FSDL), which runs India's premier football league, the Indian Super League (ISL), has rolled out its second most ambitious project – the ISL Children's League.
Conceptualised by FSDL Chairperson Nita Ambani, the ISL Children's League initiative was earlier announced in August 2019 ahead of the ISL season 2019-20. Following the announcement, the ISL Children's League saw the soft launch in November 2019.
Expressing her thoughts, Nita, founder and chairperson, FSDL, said, "I am delighted that FSDL's vision to develop the football ecosystem in India has taken another giant leap. I believe that sports and education go hand in hand and it is imperative that children are encouraged to participate actively in competitive sport. Through the Children's League initiative, we intend to provide a competitive platform for children to hone their skills from a very young age."
"Football in India has immense potential and requires unearthing talent at the grassroots level. We will ensure that the children get maximum exposure to the best facilities and training to become stars of tomorrow and take Indian Football to greater heights," she added.
Aimed at children aged between six and 12 years, the ISL Children's League is set on basic principles of providing ample play time opportunities 'in-your-own region' and identifying next generation talents for Indian football. Through the Children's League initiative, FSDL aims to develop a structured and competitive grassroots football ecosystem, engaging with children through increased participation, greater volumes of matches and game time.
Into its first year, ISL Children's League is being conducted in West Bengal, Meghalaya and Arunachal Pradesh. Over 14,000 children are currently enrolled in four age categories of Under-6, U-8, U-10 and U-12.
The action will be seen in Itanagar and Pasighat districts in Arunachal Pradesh; Shillong and Laitkseh in Meghalaya and six districts of West Bengal — Kolkata, Howrah, Hooghly, North 24 Parganas, South 24 Parganas and Nadia.
The season is expected to conclude in the second week of March 2020 with the completion of scouting and selection of promising young talents.
FSDL will also set up a regional Centre of Excellence for the best performing children from the Children's League in Kolkata by June 2020. The Centre of Excellence will serve in nurturing and developing the selected young talents with expert coaching and an established football curriculum.
Over next three years, FSDL will expand the Children's League to 12 states with an aim to engage 40,000 children, thus creating and establishing a strong grassroots ecosystem in the country offering a large pool of young talents.
Last Updated Jan 17, 2020, 4:22 PM IST