Indian men's hockey team bags bronze in Four Nations Tournament
India beat Malaysia 4-1 to finish at third spot in the tournament.
Rupinder scored to eventually help India seal the bronze medal.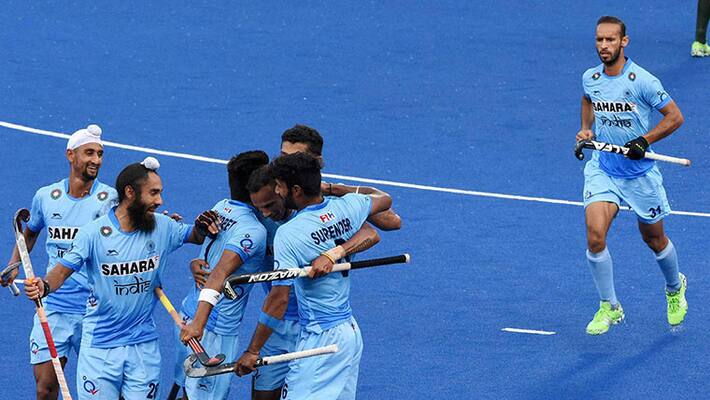 The Indians managed to control the proceedings from start to finish, scoring twice in the final quarter to post a much deserved victory.
Shrugging off Saturday's disappointment, India were looking to strike and consolidate early to avoid any pressure from the Malaysians. They started off with several quick turnovers and passes, before scoring as early as in the second minute of play.
Birendra Lakra picked up the ball near centre field and drove his shot diagonally into the circle. The cross evaded everyone, before falling to Akashdeep Singh lurking at the far post.
Akashdeep showed great awareness and superb skill to deflect the ball in and give India the lead.
India kept control throughout the quarter and had several more chances, most notably with a flurry of four consecutive Penalty Corners right at the death, but the Malaysians defended stoutly to go into the first break down by one goal.
In the second quarter, India forward Affan Yousuf came closest to scoring a goal, expertly steering past three Malaysian defenders before unleashing a reverse hit towards the goal.
However, Malaysia's goalkeeper Kumar Subramiam was up to the challenge as he put it away to deny India a goal.
Malaysia picked up the pace in the final minutes of the second quarter but despite several circle penetrations, they failed to create any real chances.
The teams went into half time separated by the single goal scored by India.
The game opened up more in the third quarter as Malaysia chased the game while India were happy to sit back and work on the counter. Despite several penetrations, neither team created threatening opportunities almost till the end of the 3rd quarter.
In the final minute though, VR Raghunath capitalised on a pair of PCs to convert one and extend India's lead.
With India in complete control and adamant to not let Malaysia get back into the match, Rupinder Pal Singh netted the ball once again in the 58th minute through a PC.
Last Updated Mar 31, 2018, 6:35 PM IST