Indian football team aims to go all out versus Kyrgyz Republic in Tri-Nation title decider
On Tuesday, India will take on the Kyrgyz Republic during Imphal's Tri-Nation series title decider. With the hosts desperate to come out on top, they will aim at going all out against the visitors.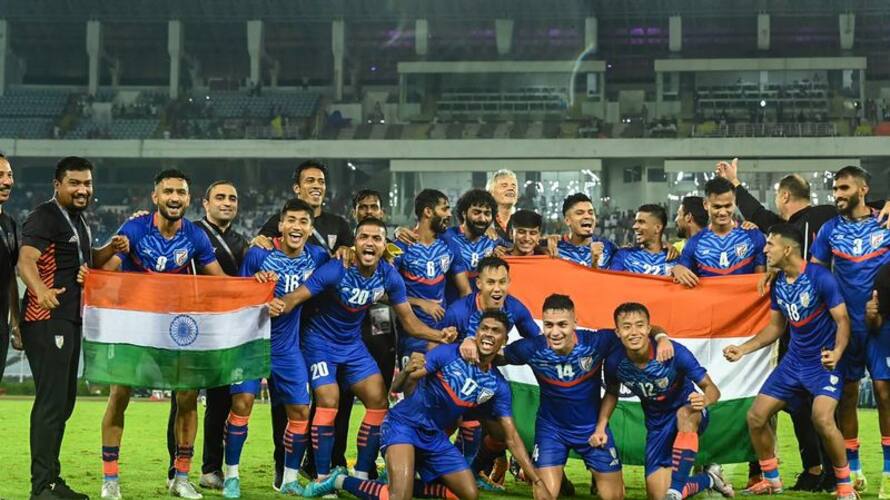 A draw against Kyrgyz Republic is enough for India to win Tuesday's Tri-Nation International Football tournament, but head coach Igor Simac said the hosts would go all out for a win. Last Wednesday, the Blue Tigers began with a slender 1-0 win over Myanmar. They need a draw to win the tournament after the Kyrgyz Republic snatched a 1-1 draw against Myanmar in the second tournament match on Saturday.
On the other hand, the Kyrgyz Republic will require a win against India to claim the trophy. "We will go all out to win. We have a full house with our supporters and a chance to prove ourselves. It will also be a much stronger team than the first game," Stimac said at the pre-match press conference.
ALSO READ: POCHETTINO TO ENRIQUE - 5 CONTENDERS TO REPLACE CONTE AT TOTTENHAM HOTSPUR
"I was right when I said Myanmar is a serious side that can hurt you. We saw that against the Kyrgyz Republic. It will, of course, be a different challenge against the Kyrgyz side because they don't have any option but to come out and win," added Stimac. Goalkeeper Amrinder Singh, who started in the 1-0 win over Myanmar, accompanied Stimac in the press conference and said he would want to keep up his excellent performance.
"I always try to do my best whenever I get the chance. Coach gives me a lot of confidence on and off the pitch. I work hard in training, rest well, and eat well. I'm happy with my performance and want to keep it up," Amrinder said. Stimac was all praise for the custodian and said Amrinder had "top reactions and eliminated every danger".
ALSO READ: LIONEL MESSI'S BARCELONA RETURN - CATALAN PRESIDENT PERE ARAGONES MAKES BOLD CLAIM AMID RUMOURS
"He has always done well in the few games he's played under me -- against Thailand (1-0), Oman (1-1) and now Myanmar (1-0)," the head coach continued. Stimac also said Sahal Abdul Samad had joined the national team camp before Tuesday's game. "Sahal is here with us as we have a couple of injuries. He will be another option for us," he communicated.
The Kyrgyz Republic is ranked 94th worldwide, while India is at 106. Disappointed with his side's opening-match draw against Myanmar, Kyrgyz Republic head coach Alexander Krestinin said it might have taken the game casually. "We reviewed the game [against Myanmar]. A lot of things didn't go as planned. We have also analysed India's matches and will look to correct our previous mistakes tomorrow. We will make some changes in the team," he said.
ALSO READ: Ahead of India vs Kyrgyz Republic, Sunil Chhetri claims not many players as hungry to score as him
The Russian has been in charge of the Kyrgyz side since 2014 and faced India twice during the 2019 AFC Asian Cup qualifying campaign (a 2-1 win at home and a 0-1 loss away). But he said that those results would not affect Tuesday's match. "The previous games against India don't affect our preparations for tomorrow. " There are many new faces on both sides, and it will be a different sort of game," concluded Krestinin.
(With inputs from PTI)
Last Updated Mar 28, 2023, 8:00 AM IST