#TheDohaDream: India to go 'blue' as Bengaluru FC aim glory
Bengaluru FC will lock horns with Air Force Club in the AFC Cup final on Saturday.
The final is being hosted by Doha's Suheim Bin Hamad Stadium.
The Blues are the first Indian football club to qualify for the AFC Cup final.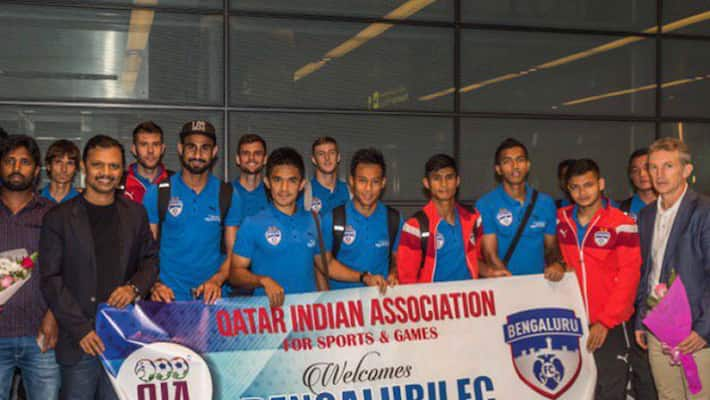 Doha's Suheim Bin Hamad Stadium is all set to be painted blue as Indian football fans are expected to come in unbelievable numbers to support Bengaluru FC.
Qatar Indian Football Forum (QIFF) has claimed that the stadium, which has a capacity of 13,000, might be filled up with almost 10,000 Indians. 
Read more: Bengaluru FC: Sunil Chhetri wishes to end Doha on happy note!
The Blues, as the Bengaluru FC team is known, will revolutionise Indian football if they manage to beat Iraq's Air Force Club on Saturday night. 
The Air Force Club have scored 26 whooping goals in 11 matches so far with one final game to go.
Bengaluru FC will have special plans for their opponent's striker, Hammadi Ahmad, who has been the stand-out player of AFC Cup 2016. He has scored 15 of his club's total goals. Meanwhile, no player from Bengaluru FC has even scored a total of six goals.
We happened to catch a glimpse of something that's brought out the best in us for a year now. #TheDohaDream #ForTheWin #AFCCupFinal pic.twitter.com/53Hl4w4PFY

— Bengaluru FC (@bengalurufc) November 4, 2016
The previous big night in Indian club football was back in 2003 when East Bengal won the ASEAN Cup.
ASEAN Cup is a tournament played by South East Asian Nations and invitee countries' champions clubs from India, Maldives and Australia. 
East Bengal took Indian club football to the next level on the night of July 26, 2003, when they defeated Thailand's BEC Tero Sasana 3-1 in the final with goals from Mike Okoro, Baichung Bhutia and Alvito d'Cunha.
Remembering East Bengal's fantastic win 13 years back and being optimistic about Bengaluru FC's chances tomorrow night, ASEAN Cup 2003's top-scorer Bhutia told Hindustan Times, "This is definitely the biggest game since the ASEAN Cup final. The interest level in our win was fantastic then and it can happen again should Bengaluru FC win. Even otherwise, this is a big achievement for them."
Coach @RocaDT_Oficial hands out information as the team put in a session in Doha last night. #AIRvBFC #AFCCupFinal #ForTheWin pic.twitter.com/ZJi2mvmw7f

— Bengaluru FC (@bengalurufc) November 4, 2016
Squads:
Air Force Club: Ali Bahjat Fadhil, Saad Natiq, Haytham Kadhim, Bashar Rasan Bonyan, A. Mensah, Humam Tariq, Mohammad Hasan, Basam Qabel, Emad Mehsen, Amjad Radhi, Hammadi Ahmad           
Manager: Basim Qasim Hamdan
Bengaluru FC: A. Singh, L. Ralte, S. Singh,  K. Pereira, Lalchhuanmawia,  V. Kumar, N. Kumar, C. Osano, N. Manju, R. Anto, J. Johnson, S. Sampingiraj, Malsawmzuala, A. George, S. Doungel, C. Vineeth, E. Lyngdoh, J. Walker, Sunil Chhetri, D. Lalhlimpuia, B. Beingaichho, U. Singh, Seong-Yong Kim
Manager: Albert Roca
Date: November 5, 2016
Time: 21.30 (IST)
Venue: Suheim Bin Hamad Stadium (Qatar SC Stadium), Doha
Last Updated Mar 31, 2018, 6:42 PM IST