'I will give this kid (Vijender Singh) a lesson of boxing'
Veteran boxer Francis Cheka has thrown a tough challenge to Vijender Singh.
Cheka is the current intercontinental champion.
The duo will fight for the WBO Super Middleweight Asia Pacific title.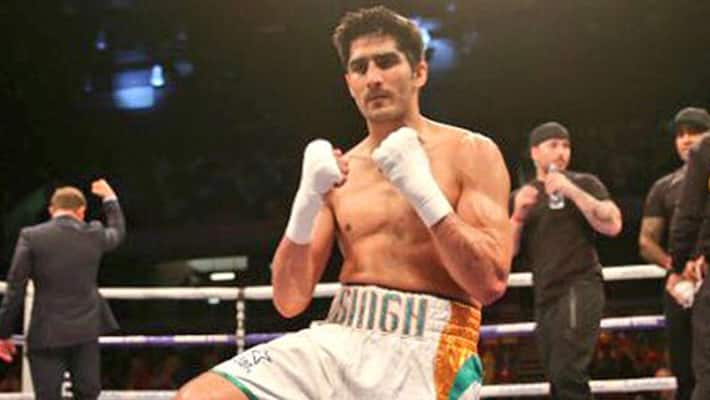 He will be up against the former world and current intercontinental Champion Francis Cheka on December 17.
The 34-year-old experienced boxer from Tanzania is a veteran of 43 fights with 32 wins including 17 knockouts and has tested himself against top super-middleweight talent including WBA world champion Fedor Chudinov from Russia and WBC international Champion Matthew Mecklin from UK.
Cheka has racked up 300 gruelling rounds under his belt in the 16 years of his career compared to Vijender Singh's 27 and has no fear fighting in India.
Cheka is Vijender's most experienced opponent to date and will prove a stern test for the big-hitting Indian boxer.
Vijender currently has a record of seven out of seven wins including 6 knockouts. The Indian claimed his first title at the Thyagaraj Stadium in July this year against Australian Kerry Hope.
On fighting Cheka, Vijender said, "Cheka is a highly experienced boxer, he has many bouts under his belt, but none of this demotivates me. I'm training harder to match up to his level and hoping for another win.
"My trainer feels that my punches are stronger than before and he has also put me under high intensity training. I am sure of protecting my title with as much pride as I won it. I am going to leave no stone unturned to make sure my title stays with me," he added.
Meanwhile, Cheka was more aggressive with his words and promised to knock out Vijender.
"I am ready to give this kid a lesson of boxing. I will come to India. I have heard a lot about this Indian boxer and there's a lot of hype around him, I just can't wait to be the one to put him in his place," he told PTI.
"I know he trains in Manchester, UK, but it will be a great fun to beat Indian lad in his own country and take away his title. If you see my record, I have a total of 17 knockouts, I have played way more rounds than he has, I am sure I will be able to knock him out in the first round itself.
Vijender has been training in Manchester for his title defense fight next month.
Last Updated Mar 31, 2018, 6:31 PM IST