Hockey World Cup 2023: Social media jubilant as India outplays Spain 2-0 to kick off in style
Hockey World Cup 2023 is happening in Odisha. On Friday, India began its campaign in style, outplaying Spain 2-0, thanks to strikes from Amit Rohidas and Hardik Singh, while social media was in a jubilant mood.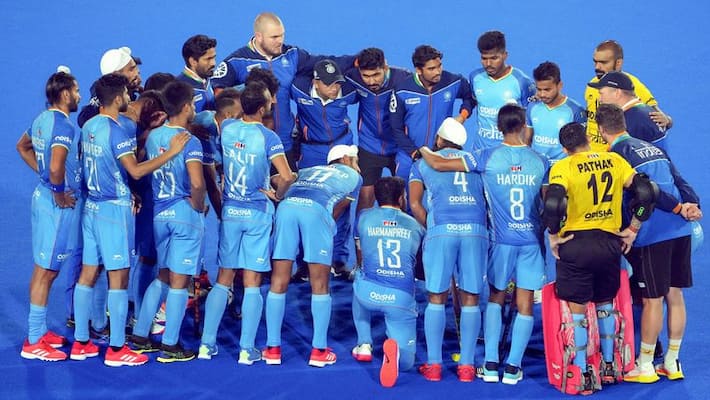 A commanding India dished out a superb show of attacking hockey to outplay a tricky Spain 2-0 in its 2023 FIH men's World Cup campaign opener at the Birsa Munda International Hockey Stadium on Friday. Local boy Amit Rohidas was among the goal scorers as he struck in the 12th minute from a penalty corner to the wild cheer of the packed venue, which made its debut as an international hockey venue on Friday. Hardik Singh scored a brilliant field goal in the 26th minute after a fine solo run. India, chasing its first medal after 1975, boosted its chances of making it to the quarterfinals from Pool D, while social media went into a jubilant mood.
The score-line did not reflect the degree of domination by India, who could have won by a more considerable margin, but the world number six team did not allow its European opponent, ranked two rungs below it, to play its game. India got five penalty corners and scored from the second one.
ALSO READ: HOCKEY WORLD CUP 2023: - AMIT ROHIDAS, HARDIK SINGH HAND INDIA OPENING WIN; DOMINATE SPAIN 2-0
Captain Harmanpreet Singh also missed a penalty stroke in the third quarter. Young goalkeeper Krishan Bahadur Pathak was brilliant in front of the bar as he made some fine saves, including from penalty corners. Spain was always a tricky opponent for India, but the home team dictated the terms to the Europeans, who had the upper hand in the four Pro League matches last year, winning two and losing one.
The Indians were quick on the attack and in counter-attack and won a lot of balls from their opponents. Spain had a couple of chances besides three penalty corners, which it wasted. Spain dominated the midfield battle in the initial minutes without getting any scoring opportunities. India settled down nicely after taking a measure of its opponent and started pressing towards the end of the first quarter.
ALSO READ: HOCKEY WORLD CUP 2023 FEVER GRIPS ROURKELA; BIRSA MUNDA STADIUM HOSTS FIRST INTERNATIONAL MATCH
Most attacks began from the right flank, with Nilakanta Sharma, Mandeep Singh, Akashdeep Singh and Abhishek in the thick of things. India's continuous pressing paid off as they got three penalty corners quickly and took the lead in the 12th minute of the second one through Rohidas. Harmanpreet's drag-flick came off the stick of a Spanish defender, and the ball fell to Rohidas, whose powerful hit beat the Spanish goalkeeper.
A minute later, India got another penalty corner, but Harmanpreet failed to find the target. Just before the end of the first quarter, Abhishek outwitted a couple of Spanish defenders inside the circle, but the efforts did not result in a goal. Nilakanta also took a shot but sent it wide.
ALSO READ: Hockey World Cup 2023 - Argentina grinds to get past South Africa 1-0 in opening contest
The second quarter also went almost identical to the first, as action remained mainly in the Indian half initially as Spain pressed hard for the equaliser. But, four minutes from half-time, Hardik made a fantastic run down the left channel and then sent a cross on the face of the goal. It beat the Spanish goalkeeper and forced a defender to deflect it for India's second goal.
Spain got its first penalty corner soon but wasted it. The third quarter did not yield any goal but had plenty of drama as captain Harmanpreet wasted a penalty stroke in the 32nd minute. His effort was ruled to have been saved by the Spanish keeper after a video referral by India.
(With inputs from PTI)
Last Updated Jan 13, 2023, 10:19 PM IST