From Dhoni to Kohli, India's climb back to Test No.1
India reclaimed the No. 1 spot in Tests after whitewashing New Zealand 3-0.
The last time India reached the No. 1 rank was back in 2009 under Dhoni's captaincy.
Seven years have passed but there are a few bits of Indian cricket that have remained unchanged!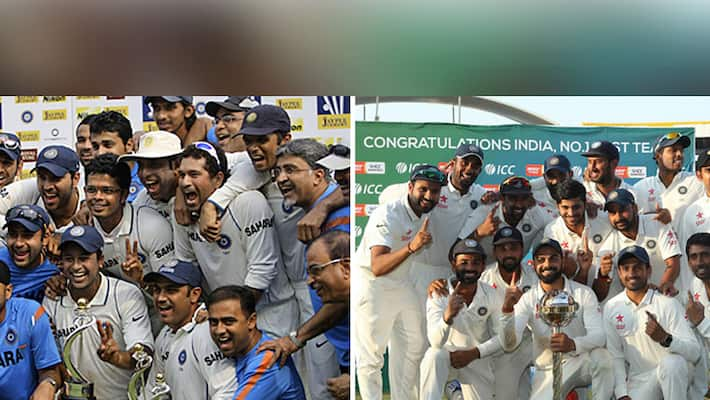 After Mohammad Azharuddin and MS Dhoni, now a young skipper in Virat Kohli has led India in white-washing the opponent in the whites. Kohli also continued his own personal excellent spell as India's Test captain, remaining undefeated in 17 Tests now.
The end of the home series against the BlackCaps was special for another reason - India reclaimed the top spot in ICC Test rankings after a gap of five years.
The last time India became World No. 1 in the longest format was in 2009 when Dhoni was the Indian Test skipper. It was India's longest stint at the World No. 1 side as it managed to remain on the top from November 2009 to August 2011.
Team India has come a long way since then. Only two players since the 2009 home series against Sri Lanka - Gautam Gambhir and Murali Vijay - featured in the recently concluded New Zealand series.
© Getty Images/PTI
Many players have come and gone; Indian cricket gave some of the greatest cricketers to the sport - however, there are a few things that have stayed put.
India's strong top-order:
In the 2009 series, it was the pair of Virender Sehwag and Rahul Dravid who led the runs chart overall. They had two centuries and a half-century each to their name from three Tests. Sehwag was also the Player of the Series for his 491 runs.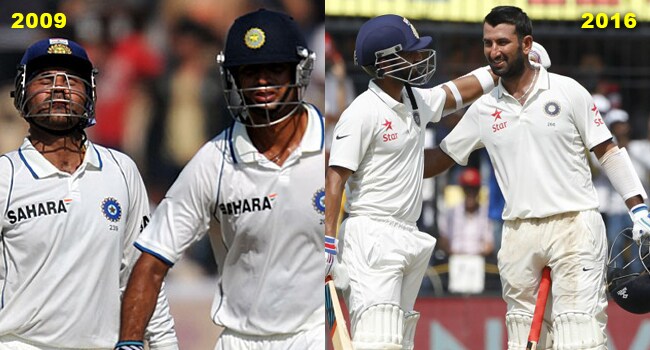 © Getty Images/PTI
Now, seven years later, India's top-order once again proved to be strong for the opponents. This time, Dravid's disciple, Ajinkya Rahane, and Cheteshwara Pujara took charge. In a series which was not high scoring, the duo made 347 and 373 runs. While Pujara notched up a century and three fifties, Rahane attained a ton and half-century.
Captain's go-to-man - A spinner:
If Harbhajan Singh troubled the Sri Lankans with his variations in length and pace, the Kiwis found Ashwin was almost unplayable in all the three Tests. Harbhajan, who was considered Anil Kumble's successor as India's leading spinner, lost form from 2011-12. The job has been taken up by the Chennai bowler.
© Getty Images/PTI
Harbhajan with 13 wickets in three Tests was the highest wicket-taker in the Sri Lanka series. However, outclassing his senior by a far margin, Ashwin claimed 27 wickets, the second-most by an Indian bowler in a three-match Test series, and had three five-wicket hauls in the concluded Test series against New Zealand.
Strong-minded Indian Test skipper:
Both Dhoni and Kohli were undefeated as Indian Test captains when they were handed the mighty ICC Test mace. Although Dhoni and Kohli have a different approach to Test captaincy, the determination in both the players have been alike. Also, they both were 'team men' above all else.
Photo Courtesy: ICC 
Along with success in captaincy, Dhoni established himself worthy even with the bat during the 2009 series. He had two centuries and an average of 107 from three Tests, while his successor was equally impressive as a batsman.
Kohli smashed a double ton during the final Test between India and New Zealand at Indore. He etched his name in history books as he was the first Indian Test skipper to record two Test double-centuries.
Last Updated Mar 31, 2018, 6:51 PM IST