We changed football history: Ronaldo on his rivalry with Messi (WATCH)
Cristiano Ronaldo opens up about his legendary rivalry with Lionel Messi and shares his perspective on the transition to Inter Miami. Ronaldo's insights provide valuable context to their competitive history and offer a glimpse into their enduring legacy in the world of football.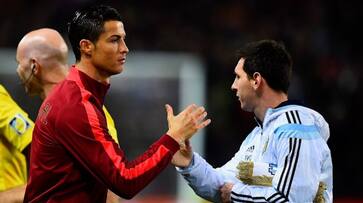 Cristiano Ronaldo has recently addressed his rivalry with Inter Miami's Lionel Messi, emphasizing that it is no longer a point of contention. The former Real Madrid superstar, during a press conference in Lisbon ahead of Portugal's Euro 2024 qualifying match against Slovakia, reflected on the competitive history he shared with the Argentine captain, stating that it was "good, the fans liked it," but now, unequivocally, "it's over." He clarified that while they "respect each other," their relationship remains that of professional colleagues rather than close friends, revealing that they have never shared a dinner table.
Despite the fervent debates among fans over who is the superior player, Ronaldo urged followers of both himself and Messi to refrain from animosity, saying, "People who are fans of Cristiano don't have to hate Messi." He stressed that they are both highly accomplished athletes who have left an indelible mark on the world of soccer, and they are widely respected globally, which, in his view, is of paramount importance.
Ronaldo also expressed his belief that Messi is performing well at Inter Miami, based on what he has observed thus far. While their rivalry on the pitch has concluded, he emphasized that their legacy as two of the greatest footballers of all time continues to evolve.
Also Read: Neymar Jr. reflects on difficult PSG stint with Messi: 'We went through hell'
Last Updated Sep 7, 2023, 9:37 AM IST