UCL 2023/24: Real Madrid's Bellingham equals Ronaldo's iconic debut feat as goal-scoring streak continues
Jude Bellingham's remarkable goal-scoring spree for Real Madrid is drawing comparisons to Cristiano Ronaldo's legendary debut achievements. Bellingham, a recent addition to the Spanish giants, secured a last-gasp victory in their Champions League opener against Union Berlin, marking his sixth goal in as many appearances for the club.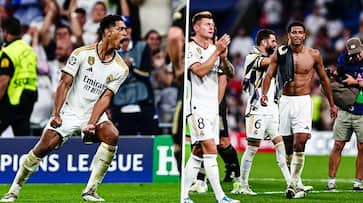 Jude Bellingham secured a last-minute victory for Real Madrid against Union Berlin during their Champions League group stage opener, solidifying his fairy tale start with the club. Bellingham, who made the switch from Borussia Dortmund to the Spanish giants this summer, has made an indelible mark with six goals in six appearances for his new team, each resulting in victories. The England international has become a sensation in the heart of the Spanish capital, earning the moniker "the boss" for his exceptional contributions.
Bellingham made a significant impact by scoring on his La Liga debut for Los Blancos, and he continued to shine in his first Champions League outing. This achievement has placed him in an elite group at Real Madrid, a club previously graced by only three other players, including the legendary Cristiano Ronaldo.
Ronaldo, the all-time leading goal scorer for Madrid with an astonishing 450 goals in 438 appearances, had an auspicious start by scoring on his club "debuts" in 2009. Similarly, playmaker Isco replicated this feat four years later, as did Marco Asensio in 2016.
Bellingham's latest goal, though somewhat opportunistic, showcased his knack for perfectly timed runs into the box. It came after a Toni Kroos shot deflected into his path, leaving him with an easy finish directly in front of the goal. This continued Bellingham's remarkable trend of being in the right place at the right time for Los Blancos.
Having made his La Liga debut for Madrid just last month, Bellingham made an instant impact by scoring a close-range volley from a corner kick in a 2-0 away victory against Athletic Club Bilbao. In his second game, he notched a brace and provided an assist for Vinicius Junior in a 3-1 away win against Almeria. Bellingham's scoring prowess continued with a late header against Celta Vigo, securing a 1-0 victory for Carlo Ancelotti's side. His remarkable performances led to him being named La Liga's Player of the Month in August, marking him as the first Englishman to receive this accolade.
Even after an extraordinary run of success, Bellingham displayed his clutch ability by scoring a match-winning goal in the fifth minute of added time against Getafe in early September, despite Madrid initially trailing. While his scoring streak paused against Real Sociedad, Madrid still emerged victorious with a 2-1 win.
Also Read: MLS 2023: Lionel Messi exits Inter Miami's clash with Toronto FC due to suspected injury - WATCH
Last Updated Sep 21, 2023, 2:46 PM IST