'This is Real Madrid': Jude Bellingham's strong statement after brace against Barcelona in El Clasico
In a thrilling La Liga Clasico showdown, Jude Bellingham's exceptional two-goal performance sparked a remarkable comeback for Real Madrid, securing a dramatic 2-1 victory over Barcelona.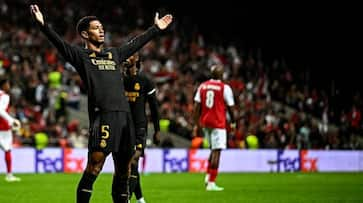 Jude Bellingham's outstanding two-goal performance secured a comeback 2-1 victory for Real Madrid against Barcelona in his debut La Liga Clasico on Saturday. Bellingham, the English international who has been on a remarkable goal-scoring streak since joining Madrid, unleashed a powerful long-range shot into the top corner after Ilkay Gundogan had given Barcelona an early lead at the Olympic Stadium. He later scored a second goal in stoppage time from close range to silence the Barcelona fans, taking his total to 10 goals in the current La Liga season.
Despite Barcelona hitting the woodwork twice and dominating the game, Bellingham, La Liga's leading goal-scorer, displayed an unstoppable form and left his mark on his first Clasico. Bellingham's brace propelled Madrid to the top of La Liga, ahead of Girona on goal difference, with both teams four points ahead of Barcelona in third place.
"I enjoy these comebacks; they certainly had my heart racing a bit, but they're always so much fun to play in," Bellingham stated in an interview with Real Madrid TV. "We never gave up, and I'm thrilled that I could contribute."
After scoring the equaliser, Bellingham wasted no time celebrating but instead maintained his composure and quickly restarted the game, seeking the potential game-winner.
"He appears like a seasoned veteran... his goal to level the game completely changed the dynamics," said Madrid coach Carlo Ancelotti regarding his 20-year-old match-winner. "What was truly surprising today was his incredible long-range shot; he's always in the right place, and today, he scored an exceptional goal from outside the box."
Bellingham has now scored 13 goals in 13 games for Real Madrid across all competitions. "He has started very well, and he can potentially reach 20 or 25 goals," added Ancelotti.
Barcelona, despite a strong performance, couldn't believe they had let the victory slip through their fingers. Coach Xavi expressed his frustration, saying, "The summary is simple; we had 60 very good minutes where we scored a goal, while they had 20 to 25 minutes, and they scored two. Madrid's victory today is, in my opinion, unjust... they were much more efficient than us, which made the difference."
The match saw the return of Robert Lewandowski, Jules Kounde, and Raphinha from injury for Barcelona, though they were named as substitutes by coach Xavi. On the other hand, Ancelotti once again deployed Bellingham in the number 10 role, giving him his first taste of arguably the world's most significant club football match.
However, it was another midfielder who made his Clasico debut and opened the scoring, Barcelona's summer signing, Ilkay Gundogan. In the sixth minute, he capitalized on a defensive error to put Barcelona ahead.
Madrid struggled to find their footing, but eventually, a long-range shot found the back of the net, leveling the score with just over 20 minutes left in the game. Bellingham's powerful strike left no chance for Marc-Andre ter Stegen.
Bellingham then stepped up in stoppage time, capitalising on Luka Modric's deflection to secure the victory for Madrid. While Madrid's comeback thrilled Bellingham, it left Barcelona heartbroken.
Xavi tried to motivate his despondent team by reminding them that the season is long, and it's only the 11th game. In contrast, Bellingham, who grew up watching Clasicos on TV with his family, was overjoyed with the impact he made in his first Clasico.
Also Read: Premier League 2023-24: Son leads Tottenham to commanding victory over Crystal Palace, extending their lead
Last Updated Oct 29, 2023, 12:23 PM IST