PSG fan stabbed in Milan ahead of high-stakes Champions League clash; raises security concerns
Violent assault on Paris Saint-Germain (PSG) supporter in Milan before UEFA Champions League 2023-24 match has raised tensions for pivotal game, amid recent clashes in the city.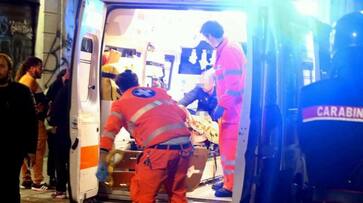 A Paris Saint-Germain (PSG) supporter was assaulted by hooded attackers prior to the French club's Champions League match at AC Milan, as confirmed by Italian police on Tuesday. The unnamed French man sustained serious injuries, having been stabbed twice in the leg and subsequently hospitalized. The incident occurred in Milan on Monday night, and while the victim's life wasn't endangered, the 34-year-old was reported as the injured party, according to Corriere della Sera.
Witnesses reported a clash between around 50 Milan fans and French supporters in the Navigli area of the Italian city, leading to the stabbing. Video footage circulated on social media platforms, depicting a group of men near canal-side establishments characterized by cafes, bars, and nightlife. The footage shows a confrontation escalating with the sudden use of flares, followed by a group running away from others donning hoods and wielding what appear to be batons.
This incident follows a similar event where a Newcastle United supporter was stabbed in the same area before a Champions League fixture against Milan just under two months ago.
The upcoming match between Milan and PSG, held at the San Siro, features the return of Italy goalkeeper Gianluigi Donnarumma, who departed Milan to join PSG as a free agent in the summer of 2021. The tensions are expected to be high, with PSG leading Group F by two points after a 3-0 victory over Milan at the Parc des Princes two weeks prior.
The match carries significant weight for both teams' progression in the Champions League, with only four points separating the four teams in the group. Milan, currently at the bottom with two points, has struggled to score in their opening three matches, amplifying the importance of the clash.
Also read: Recruitment to Injuries: Manchester United's roadblocks in their Champions League quest
Last Updated Nov 7, 2023, 7:59 PM IST