Premier League 2023/24: Jadon Sancho faces first-team ban at Manchester United amid ongoing controversy
Jadon Sancho's future at Manchester United appears increasingly uncertain as he finds himself banned from all first-team facilities, including team dining areas, following a public dispute with manager Erik ten Hag.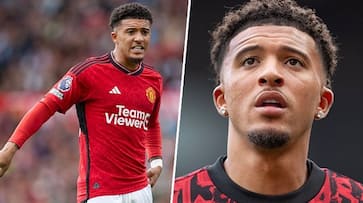 Jadon Sancho's prospects within Manchester United appear increasingly dim, as recent reports indicate that the forward has been denied access to all first-team facilities at the club, including the team dining areas. Sancho's exclusion from the first-team squad came about after he publicly accused manager Erik ten Hag of dishonesty regarding his omission from the matchday squad against Arsenal in early September. Ten Hag had stated that Sancho's performance in training had not met the standards, prompting Sancho to retaliate on social media, asserting that he was being unfairly singled out as a "scapegoat." Although Sancho subsequently deleted his post, he remains distanced from the first-team fold.
According to The Daily Mirror, Sancho, who is currently training with the academy, is no longer permitted to utilize any first-team facilities at Manchester United's Carrington training ground, which includes dining alongside senior squad members. Consequently, Sancho now shares mealtime with academy players.
Ten Hag was compelled to address reports of discord within the dressing room, partly linked to his treatment of Sancho and other issues at the club. While he did not refute the reports, he acknowledged that opinions exist and expressed readiness to manage the situation. In his words, "At United, you have to win every game, so it doesn't change anything. As always, it's about how we play against Burnley, there's no easy game, definitely not against Burnley. We know how intense they play football, we know their approach, I like the approach from them, the adventure, high intensity, and dynamic in their game, so we have to play our best."
Also Read: Premier League 2023/24: Thrilling North London derby between Arsenal and Tottenham ends in a 2-2 stalemate
Last Updated Sep 26, 2023, 11:21 AM IST