Premier League 2023/24: Thrilling North London derby between Arsenal and Tottenham ends in a 2-2 stalemate
In a highly anticipated North London Derby, Arsenal and Tottenham faced off in a football spectacle that culminated in a nail-biting 2-2 draw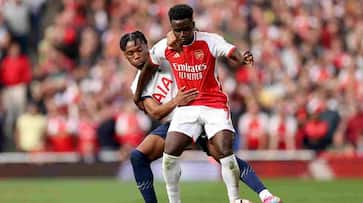 In a thrilling showdown between Arsenal and Tottenham, the two sides battled to an electrifying 2-2 draw. The North London Derby is always a fixture filled with intense passion, and this season's encounter did not disappoint. The Emirates Stadium was buzzing with excitement as fans from both sides gathered to witness the epic showdown.
Arsenal took an early lead in the match and the Gunners' faithful erupted in joy as their team drew first blood. However, Tottenham, known for their resilience, quickly responded with a goal leveling the score at 1-1. The first half was a closely contested battle, with both teams creating scoring opportunities but failing to capitalise on them. The tension in the stadium was palpable as the players headed into the halftime break. 
Arsenal and Tottenham both maintain their unbeaten records in the Premier League following a thrilling 2-2 draw. Son Heung-min played a pivotal role, scoring twice to secure a point for the visiting team. Arsenal enjoyed a dominant start to the match and capitalized on their early dominance when Bukayo Saka's strike took a fortunate deflection off Cristian Romero, leading to a well-deserved lead. However, Ange Postecoglou's side showcased impressive resilience at the Emirates.
Also Read: Premier League 2023/24: Liverpool prevails in a hard-fought battle; beats West Ham United 3-1 in Anfield
Son leveled the score by skillfully guiding James Maddison's well-placed pass into the net. Although Arsenal briefly regained their lead from the penalty spot courtesy of Saka, after Romero was adjudged to have handled the ball in the box, the Spurs forward swiftly responded within just two minutes, capitalizing on Jorginho's unfortunate loss of possession due to Maddison's interception.
Last Updated Sep 24, 2023, 8:57 PM IST