Potential successors for Flick to lead Germany into Euro 2024
With the sudden departure of Hansi Flick, the German national football team faces a pivotal decision ahead of Euro 2024.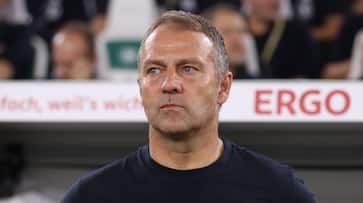 Following Hansi Flick's departure just nine months ahead of Euro 2024, the German national team finds itself without a manager as they prepare to host a major men's international tournament for the first time in nearly two decades. The big question now is who will take the reins and what will the future of the German national team look like?
1. Julian Nagelsmann:
Julian Nagelsmann, known for his remarkable transformation of Hoffenheim, could be a prime candidate. His expertise in organizing and toughening teams, combined with his effective 3-1-4-2 formation, aligns well with the current German national team's profile. This formation could potentially address challenges such as the lack of traditional wingers and the prevalence of center-backs in the back four. Nagelsmann's adaptability and tactical acumen make him an ideal choice for international management.
2. Oliver Glasner:
Oliver Glasner, who favors using wingbacks, is another viable option. His previous success at Eintracht Frankfurt and Wolfsburg showcased his ability to build well-organized, resilient teams. Under his leadership, Frankfurt achieved Europa League success, further highlighting his credentials. While managing strong personalities at the national level could be a challenge, Glasner's track record speaks for itself, making him a compelling choice if other candidates don't step forward.
3. Stefan Kuntz:
Stefan Kuntz, a former Euro 1996 winner, has a proven track record in international management. His success with the German U21 team, winning the U21 Euros in 2017 and 2021, demonstrates his ability to nurture emerging talents. Many players under his guidance have the potential to make a mark in the senior national team. Kuntz's experience and familiarity with young talents make him a contender worth considering for the role.
Also Read: Asia Cup 2023, India vs Pakistan: Shaheen Afridi's gesture to new dad Jasprit Bumrah wins hearts (WATCH)
4. Louis van Gaal:
Louis van Gaal, though unlikely due to his age, has left the door slightly ajar for a compelling opportunity. The Dutchman's remarks about being open to managing a promising national team have sparked some interest. However, his previous stint with the Netherlands received mixed reviews, and his age may not align with Germany's long-term vision.
5. Matthias Sammer:
Matthias Sammer, a Euro 1996-winning team captain and former Ballon d'Or recipient, boasts an impressive managerial and administrative background. His success with Borussia Dortmund and Bayern Munich, along with his role as the DFB's technical director, showcases his influence on German football. Sammer's no-nonsense approach and deep knowledge of the game make him a compelling choice if called upon to lead the national team.
As Germany searches for its next leader, each potential successor brings a unique set of skills and experiences to the table, leaving fans eager to see who will guide the national team into Euro 2024 and beyond.
Also Read: Manchester United faces unique printing challenge for Rasmus Højlund's shirts due to danish letter 'ø'
Last Updated Sep 11, 2023, 8:47 PM IST