Manuel Neuer set for remarkable comeback after year-long injury break
Bayern Munich's iconic goalkeeper and captain, Manuel Neuer, is poised to stage a remarkable comeback after a year-long absence due to a debilitating leg injury.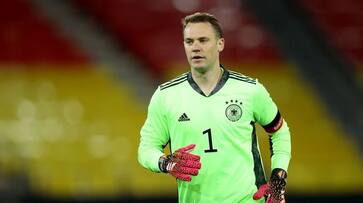 Bayern Munich's Manuel Neuer, their captain and goalkeeper, is set to make a remarkable return to action after a year-long absence. Manager Thomas Tuchel confirmed that Neuer will make his comeback in Saturday's home Bundesliga match against Darmstadt. The 37-year-old, a 2014 World Cup champion with Germany, has been out of action since breaking his leg in a skiing accident in December, just days after representing his nation at the World Cup in Qatar. If all goes well in training, Neuer will play, and his impending return has brought joy to the team and fans. Neuer's last appearance for Bayern was in a victory against Schalke on November 12 last year, just before the World Cup.
He traveled to Qatar as Germany's captain, but his team was eliminated in the group stage. Upon returning to Germany, he suffered the leg injury in a skiing incident, requiring surgery in December. During his absence, Bayern temporarily recruited Switzerland's Yann Sommer as their goalkeeper. However, Sommer has since moved to Inter Milan.
Bayern Munich has been patient with Neuer's rehabilitation, as emphasized by Tuchel. The team eagerly anticipates his return, acknowledging him as a world-class goalkeeper. Despite his absence from the German national team, Neuer intends to make a strong comeback and aims to represent his country at Euro 2024, which Germany will host. Bayern enters the weekend on a positive note following a 3-1 victory over Galatasaray in the Champions League, but they currently occupy third place in the Bundesliga standings, trailing Bayer Leverkusen by two points.
Darmstadt, a newly-promoted team, had secured back-to-back victories before suffering a 3-1 defeat at home to RB Leipzig in their recent outing.
Also Read: Jurgen Klopp: Mohamed Salah is still 'Biologically' a young player, despite growing experience
Last Updated Oct 27, 2023, 9:18 PM IST