Manchester United manager Erik ten Hag addresses Marcus Rashford's nightclub controversy after derby defeat
Manchester United's manager, Erik ten Hag, speaks out on the controversial decision by Marcus Rashford to attend a nightclub party following the team's disappointing derby defeat to Manchester City.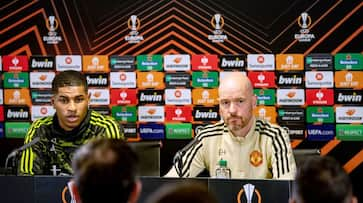 Erik ten Hag, the manager of Manchester United, expressed his strong disapproval of Marcus Rashford's decision to attend a nightclub party following the team's disappointing defeat to Manchester City last weekend. Rashford, a product of the club's youth system, has struggled this season, contributing only one goal as the team has experienced a collective and individual slump in form.
Rashford's recent performances have been a far cry from his impressive tally of 30 goals for United in the previous season, and his off-field choices came under scrutiny after the 3-0 loss to City. Reports surfaced the next day that Rashford, who celebrated his 26th birthday that Tuesday, had gone to Chinawhite nightclub for a pre-arranged birthday celebration shortly after the defeat at Old Trafford.
Manager Ten Hag confirmed his awareness of Rashford's post-derby night out, stating, "I spoke with him about it. It's unacceptable, I told him, he apologized, and that's the end of it. As for the rest, it's an internal matter." When questioned about whether Rashford had been fined, Ten Hag reiterated that it was an "internal matter" and assured that it would not affect Rashford's availability for the upcoming critical Premier League match against Fulham on Saturday.
Ten Hag clarified that Rashford's placement on the bench during the recent Carabao Cup loss to Newcastle was due to rotation, not punishment. Although Rashford had previously been benched for a game at Wolves due to timekeeping issues, Ten Hag dismissed the idea that the academy graduate was not meeting his expectations, saying, "Your suggestion is not correct. He is fitting in, he is very motivated to make things right."
The manager emphasized that Rashford's qualities are best utilized near the opponent's goal and expressed his belief in Rashford's dedication and commitment to the team's success, both on and off the pitch.
Despite the distractions, Ten Hag publicly supported Rashford and stressed his importance in the team's efforts. He acknowledged that Rashford's role is crucial, and the team needs to work collectively to create opportunities for him to showcase his talents.
For Manchester United, it is crucial for Rashford to regain his scoring form, especially in their upcoming match against Fulham. The midweek loss to Newcastle marked their eighth defeat in 15 matches in all competitions, making it their worst start to a season since 1962-63. This challenging period has led to speculation about Ten Hag's position, but the determined Dutchman remains committed to the job and believes in the team's potential for success.
Ten Hag expressed his conviction that United can overcome this difficult phase as long as they stick together and work as a team. He affirmed his belief in the club's structure and emphasized the importance of focusing on the present to improve their performance before the international break in November, with fixtures against Fulham and Luton and a crucial Champions League clash in Copenhagen.
Also Read: 'Nahi hu fan': When Salman Khan confessed not being 'football' fanatic in a viral video
Last Updated Nov 4, 2023, 1:42 PM IST