Ligue 1: Zinedine Zidane agrees to become Marseille's manager if Saudi takeover materialises - Report
French football legend Zinedine Zidane has reportedly agreed to become the head coach of Ligue 1's Marseille, contingent on a potential Saudi takeover.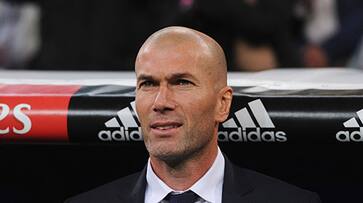 In a significant move, Zinedine Zidane, the renowned French football figure, has reportedly reached an agreement to assume the role of head coach for Ligue 1 giants, Marseille. The former Real Madrid boss had been without a managerial role since 2021, leading to continuous speculation about his future endeavours.
Zidane's long-cherished dream had been to manage the French national team, but this aspiration never materialised. As per France Bleu Provence, the legendary footballer has decided to embrace the opportunity to lead Les Phoceen, although there is a catch: this move is contingent on a potential takeover of the club by Saudi Arabia.
Should the Saudi takeover come to fruition, Zidane will be granted authority over recruitment decisions and a substantial transfer budget estimated at around €300 million. However, the main obstacle lies in convincing the current Marseille owner, Frank McCourt, who has staunchly resisted selling the club for an extended period.
For loyal fans of Les Phoceens, the prospect of Zidane taking the coaching reins is undeniably exciting, as the club has been lacking a manager of such distinguished pedigree in recent years. With Paris Saint-Germain dominating Ligue 1 for the past decade, Marseille's hope for a resurgence hinges on this potential Saudi-backed ownership and the presence of a high-profile manager like Zidane. These elements could position Marseille as a formidable force in the league and enhance their chances of securing more titles.
The start of the new season has been turbulent for Les Phoceens, with Marcelino stepping down from the head coach role after just seven games, having lost the trust of the fans. In response, the club recently appointed former Valencia coach Gennaro Gattuso as their new manager, setting the stage for an intriguing period in Marseille's footballing journey.
Last Updated Sep 29, 2023, 12:25 PM IST