Heartbreak for Real Madrid fans as Jude Bellingham suffers shoulder dislocation; doubtful for UCL clash
Real Madrid star Jude Bellingham has reportedly dislocated his left shoulder and is unlikely to play in the UEFA Champions League clash against Sporting Braga, sending a wave of heartbreak among fans of the Spanish giants.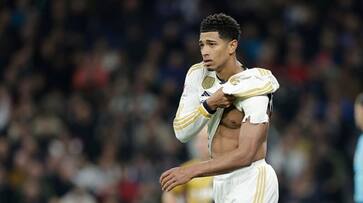 Real Madrid star Jude Bellingham, who has been one of the most impactful players for the Spanish giants since his arrival at Santiago Bernabeu this summer, has reportedly suffered a left shoulder dislocation and is likely to miss the upcoming UEFA Champions League 2023-24 clash against Sporting Braga. The England international sustained a shoulder injury during the team's draw against Rayo Vallecano, as the Los Blancos struggled in their goalless draw, displaying inefficiency against their city rivals. Despite completing the entire 90-minute game, Bellingham encountered a shoulder issue, leading to visible strapping on his left arm and chest post-match.
Also read: Real Madrid boss Carlo Ancelotti downplays draw with Rayo Vallecano in La Liga title race
According to a report in El Chiringuito, a meeting between manager Carlo Ancelotti, doctors and Bellingham will meet on Tuesday to decide on the star player's inclusion for the Champions League clash scheduled for November 9.
Earlier, Ancelotti acknowledged the problem, expressing concern over Bellingham's injury. The shoulder injury to Bellingham could significantly impact Real Madrid, considering the player's influential role in the squad since his transfer from Borussia Dortmund to the Spanish capital. Bellingham, who was recently honoured with the Kopa Trophy at the Ballon d'Or 2023 ceremony in Paris, has notably scored ten goals in the La Liga and three goals in Champions League, showcasing exceptional performance in an advanced position.
Girona, a surprising frontrunner in La Liga, leads the league after 12 matches, holding a two-point advantage over Real Madrid. Meanwhile, Barcelona follows closely behind, securing a stoppage-time victory against Real Sociedad on Saturday.
Following this news, heartbroken Real Madrid fans took to Twitter to express their anguish and wished Bellingham a speedy recovery. "Heavy load carrying does that. Speedy recovery Idolo," noted one fan on X, while another added, "His shoulder is tired of carrying Madrid."
Here's a look at some of the other reactions by Real Madrid fans:
Last Updated Nov 6, 2023, 9:58 PM IST